August 3rd, 2008
Caldwell 'Fire Control' Joystick Rest on Sale
Looking for a joystick-type front rest at a bargain price? Now through the end of August, 2008, the Caldwell Fire Control Rest is on sale at MidwayUSA for just $179.99 (product #956104). That's a $20.00 savings.
This Caldwell Fire Control Rest costs hundreds of dollars less than a Farley Co-AX or a SEB coaxial rest, though the function is very similar. We've tried the Caldwell. While we much prefer the more costly Farley and SEB units (they have better bases and much better bags), the Caldwell does a creditable job. Movement of the rest head is fairly smooth in all directions. The rest can be adjusted so the control arm doesn't "droop" or move even if you remove your hand. The one knock on the product is most people think the supplied front sandbags are not good enough for competitive benchrest. But for a varminter looking for the ability to adjust both vertical and horizontal aiming point quickly, this unit should suffice. Below is a video we created at the 2008 SHOT Show.
CLICK HERE (or on VIDEO frame) to watch Fire Control Rest DEMO Video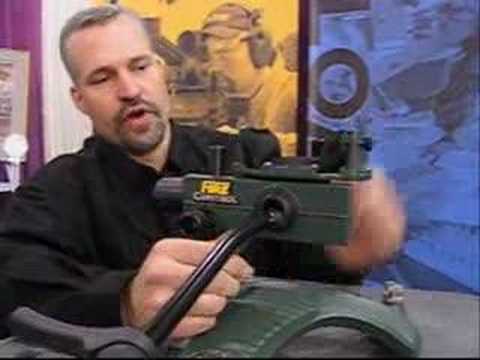 To view another Caldwell-produced short video showing the basic Fire Control Front Rest plus a full-length version that supports the rifle at the front AND rear, click the link below:
VIDEO — Caldwell Fire Control Front Rest and One-Piece Rest (with stock cradle)

Similar Posts:
Share the post "Caldwell 'Fire Control' Joystick Rest on Sale"