May 16th, 2009
SPEC-REST Shooting Platform a Hit at NRA Meeting
We had a chance to check out the SPEC-REST from Lone Star Field Products at the NRA Meeting in Phoenix. This is one solid, well-built piece of kit, we can assure you. The SPEC-REST is finely engineered, and very smooth in operation (both elevating and traversing). To be honest, the spec-rest makes some other stamped metal portable shooting platforms look like kids' toys. The main beam is solid metal and all the adjustment controls are well-placed and sturdy. A SPEC-REST is not going to bend or break under hard use. This rig was designed from the ground up to work with even the heaviest-recoiling calibers, such as 338 Lapua Magnum and 50 BMG. The unique design of the SPEC-REST even helps it dissipate recoil when shooting the "big boomers".
Our Assistant Editor, Jason Baney, currently has a SPEC-REST plus low-profile Lone Star Quad base for testing and evaluation. The photo above shows the SPEC-REST on the Quad base which can be adjusted low enough to allow use on a bench. To view Lone-Star's SPEC-REST in action, watch the video below. Lone Star President Robert Black puts a tripod-mounted SPEC-REST through its paces. I think you'll be impressed… this Editor was.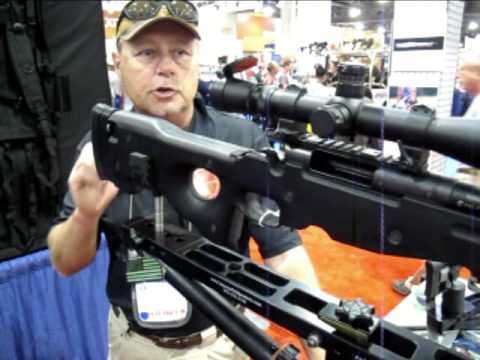 Similar Posts:
Share the post "SPEC-REST Shooting Platform a Hit at NRA Meeting"