September 15th, 2009
First Shots Program Succeeds with Lady Shooters
For the shooting sports to grow, it is vital to bring in new participants, particularly juniors and women. The National Shooting Sports Foundation's First Shots program has been very successful in introducing new shooters to the sport. Nearly half of the First Shots program's participants have been female. A new NSSF Report shows that a high percentage of women who get started with the First Shots program go on to acquire firearms and become active shooters.
For example, after attending a First Shots seminar at their local range, 47 percent of women participants have met their local requirements to purchase a handgun, 26 percent said they have already purchased a handgun, and 58 percent said they are planning to purchase a handgun in the future. When asked what their primary reason for purchasing a handgun would be, 86 percent said personal protection.
CLICK HERE to Read Full Report on Female Shooters
In related news, Champion action shooters Sharyn Cohen, Julie Golob and Kippi Leatham have launched the new Women of USPSA website, an online resource for women in practical shooting. WomenofUSPSA.com will help encourage women to participate in the shooting sports by profiling the women who compete in United States Practical Shooting Association (USPSA) events. Shown below is Jessie Abbate at the USPSA Nationals, this week, as posted on the Women of USPSA website Blog.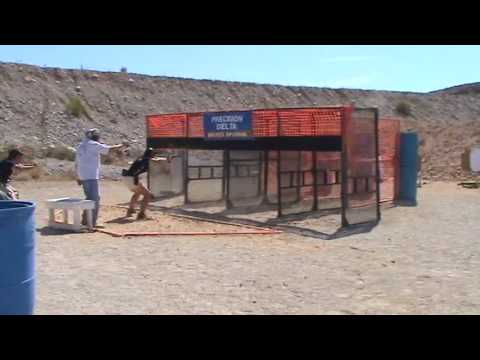 This report courtesy NSSF. Images copyright NSSF, all rights reserved.

Similar Posts:
Share the post "First Shots Program Succeeds with Lady Shooters"