January 20th, 2010
SHOT Show Report: Manners Composite Stocks
Manners Composite Stocks builds very strong, stiff stocks employing advanced manufacturing methods and high tech carbon fiber materials. In this video, stock-maker Tom Manners showcases his new products for 2010. These include the handsome new MCST 5A Tactical stock, composed of 30% carbon fiber, 65% fiberglass. Though as strong as any comparable stock on the market, the MCST 5A weighs just 4.1 pounds. Tom also displayed his impressive "long wheelbase" F-Class stock. A full 7″ longer than any other F-Class stock on the market, the Manners F-Class stock features all-carbon construction and a unique "fish-belly" design that provides extra rigidity so the stock tracks smoothly without the "springboard effect" common to some other low profile stock designs.
Tom also previewed the new Manners Mini Chassis, an integrated v-block/bottom metal/mag carriage. Manners' Mini Chassis can be installed in one of Manners stocks or other designs, and it provides a rock-solid, "bolt-in and go" mount for a Rem-700 footprint action. The Mini Chassis takes both 5-round and 10-round AI magazines.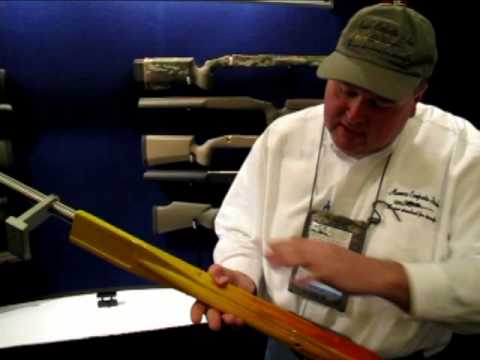 Similar Posts:
Share the post "SHOT Show Report: Manners Composite Stocks"
Tags: carbon fiber, F-Class, Stock, Tactical, V-block