September 8th, 2010
Zeiss 85mm DiaScope Spotting Scope Wins Best of Best Award
The new Zeiss Victory DiaScope 85mm spotting scope from Carl Zeiss has won Field & Stream magazine's prestigious Best of the Best Award for 2010. This annual awards program recognizes the most innovative and best-designed products in the hunting industry. In the September issue of Field & Stream, the magazine's reviewer wrote: "The DiaScope is superior in sharpness, focus, zoom and armored construction. When I tested for waterproofness, it floated. I could judge buck antelope miles away with it on a cloudy day. The cost can be made up in saved boot leather. – T.M."
Zeiss 85mm Diascope Also Earned Outdoor Life and Hunting Magazine Honors
This marks the third major industry award for the ZEISS DiaScope this year. The 85mm DiaScope also won the 2010 Outdoor Life Editor's Choice Award and Petersen's Hunting magazine's Editor's Choice Award. The DiaScope is available in 65mm or 85mm models, straight or angled, and newly-designed eyepieces include the Vario D 20-75X, one of the most powerful and versatile eyepieces on the market today. All DiaScope eyepieces boast Zeiss' LotuTec® water-repellant coating and a new bayonet locking system that securely locks the eyepieces yet still allows quick eyepiece changing.
At the 2010 SHOT Show, this Editor had a chance to interview Stephan Albrecht, Project Engineer for the impressive new 85mm Diascope. In the video below, Stephan explains the important new features of the award-winning spotting scope, including the dual-speed focus system and the new, high-power 20-75X eyepiece.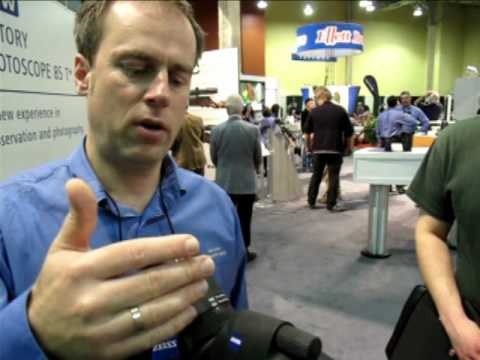 Similar Posts:
Share the post "Zeiss 85mm DiaScope Spotting Scope Wins Best of Best Award"
Tags: Diascope, Optics, Spotting Scope, Zeiss