January 25th, 2011
SHOT Show Report: Cool New Stuff from Kelbly's
New March 3-24x42mm FFP Tactical Scope
Every year, a visit to the Kelbly's booth is one of the highlights of our SHOT Show experience. This year, Jim Kelbly showed off an impressive new First-Focal-Plane 3-24x42mm March Tactical Scope. We were impressed with this new scope. It offers a wide range of magnification in a compact design. As first glance you think you're looking at a 4-12X optic, not a scope with 24-power on tap. The scope is intelligently laid out — with mil clicks to match the mil reticle. Notably, the elevation turret delivers a full TEN mils per revolution. That is the same as Nightforce's "high-speed" mil turret, and the ten mils of "up" should get you all the way to 1000 yards with most popular cartridges. If you're a tactical shooter looking for a mil-mil scope you should check out the new 3-24X March. We think it is very competitive with anything out there, and it is a lot more compact than many scopes in the 20-24X power range.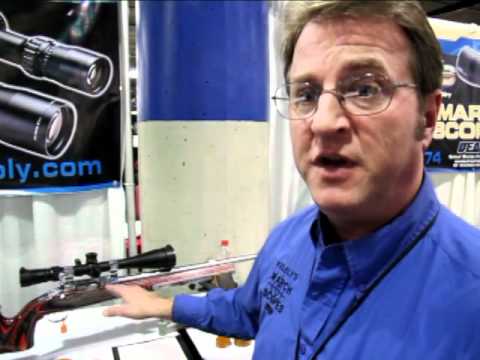 Kelbly's Also Builds Complete Rifles
Along with March scopes and Kelbly/Stolle Actions, the Kelbly booth had a stunning F-Class rifle on display, with a 10-60X March scope on top. This red and black beauty belongs to Jim's son, Ian Kelbly. It features a polished Stolle Panda F-Class action, pillar bedded to a Precision Rifle & Tool laminated F-Class stock. This was the stock design Charles Ballard used to win back-to-back U.S. F-Class Championships. Jim noted that Kelbly's continues to offer a full range of gunsmithing services, from barrel chambering to building complete rifles — with your choice of Kelbly stocks or third-party stocks.
Similar Posts:
Share the post "SHOT Show Report: Cool New Stuff from Kelbly's"
Tags: F-Class, Kelbly's, Kelblys.com, March Scopes, Panda Action, SHOT Show