September 8th, 2017
Hall of Famer 'Speedy' Gonzalez on Kelly McMillan's Radio Show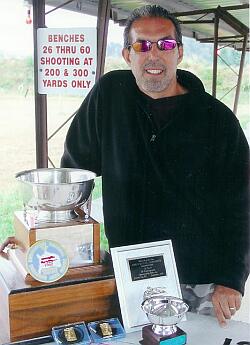 Today's the day — you'll want to tune in to Kelly McMillan's Taking Stock Radio Show today, Friday, September 8, 2017. The broadcast will feature highly-respected gunsmith and Hall of Fame Benchrest Shooter Thomas 'Speedy' Gonzalez. The Radio Show, which streams on the internet, runs 9/31/2017 at 11:00 AM Pacific Time on VoiceAmerica Sports Channel.
Speedy and Kelly will discuss a variety of topics, including gunsmithing, stock design/manufacture, the past/present/future of Benchrest and F-Class competition, and how Benchrest reloading/tuning methods have influenced other disciplines. Speedy will also discuss how the standards for precision shooting have evolved in recent years. The quest for accuracy is never-ending. CLICK HERE to LISTEN.
Here's an F-Open rifle Speedy built for a competitor at the recent F-Class World Championships in Canada.
Along with Speedy, this week Kelly McMillan interviews Phillip Naman, host of the Firing Line Radio Show, a California-based radio show covering a wide range of firearms topics, including hunting, gun rights, gun gear, shooting events, legislation, and gun safety.
You can also access last week's episode, which features USA F-TR Team Captain Ray Gross, and Derek Rodgers, the newly-crowned F-TR World Champion.
CLICK HERE to Launch Taking Stock Show Past Episodes (Warning — Loud Audio Starts Immediately)
About McMillan Fiberglass Stocks
Kelly McMillan is the president of McMillan Fiberglass Stocks (MFS). This company began in 1973 when Gale McMillan starting crafting benchrest stocks at home in his carport/garage. In 1975 MFS hired its first employee, Kelly McMillan. By 1979 Kelly was made a partner, and by 1984 Kelly was in charge of running the stock shop. Since that time MFS has continued to grow with innovation and design. Today McMillan Fiberglass Stocks has a 15,000 sq/ft facility and 65 employees.

Similar Posts:
Share the post "Hall of Famer 'Speedy' Gonzalez on Kelly McMillan's Radio Show"