January 23rd, 2011
What do you give the man who has everything? How about his own 1760-square-foot, armor-plated shoot house from MGM Targets? Heck he can even assemble it himself with a couple big wrenches (and a lot of help from friends). Of course you must lay a solid concrete foundation first — MGM's Shoot House is composed of 40,000 pounds of steel (20 tons). The MGM Shoot House employs a modular design so it can be assembled in a wide variety of layouts to suit the owner. All walls are constructed of 3/8″-thick armored plate. Plywood facings serve as a "containment system" to protect shooters from splash-back and bullet fragments from shots fired. To protect folks on the outside, the 3/8″-thick steel is thick enough to prevent penetration by all pistol cartridges, all shotshells, and rifle rounds up to a 7.62×51 (.308 Win).
$117,000 for the SHOOT HOUSE — But Recoup Costs via Rentals
What does all this cost? The SHOT Show price is just $117,000, not including foundation and assembly labor costs. MGM calls this "affordable". Well we know some shooters who have over $100K tied up in a motor home. Realistically, this is not something an individual would buy, although it would be within the budget of some larger shooting clubs, considering that some of the cost could be offset by renting out the Shoot House to law enforcement groups.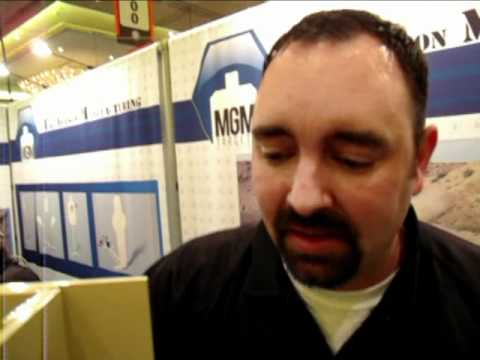 While the Shoot House was designed primarily for military and law enforcement group training, it can also be used by private shooting clubs for pistol and multi-gun matches. In addition, a private range or club may want to construct a Shoot House, and then earn revenue by leasing it back to the local police or sheriffs' agencies. For more information, visit MGMTargets.com, or call 1-888-767-7371 toll-free.
Share the post "SHOT Show Report: 1760 sq-ft Armored SHOOT HOUSE from MGM"