September 19th, 2016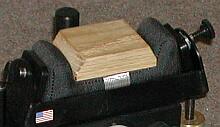 Here's a simple solution for lumpy front sandbags. Cut a small block the width of your fore-end and place that in the front bag between matches. You can tap it down firmly with a rubber mallet. This will keep the front bag nice and square, without bunching up in the center. That will help your rifle track straight and true. Rick Beginski uses wood (see photo), while our friend John Southwick uses a small block of metal. The metal block might work a little better, but the wood version is easier to make with simple tools. John Loh of JJ Industries offers a slick Delrin block with a built-in bubble level. Loh's block helps ensure that the actual top surface of your front bag is level, as distinct from the front rest assembly.
Share the post "TECH TIP: Use a Block to Maintain Front Bag Shape"