April 29th, 2011
Gear Review: AIM 60 Tactical Drag Bag
The folks at AIM Field Sports Ltd. in the UK recently sent us an AIM 60 Tactical Drag Bag for testing and evaluation (T&E). Capable of handling a rifle up to 59″ overall, and equipped with shoulder straps and lots of storage pockets, this unique product is far more versatile than the typical "soft" rifle case. In backpack mode, the AIM 60 will carry the weight of your gun and all the extras comfortably over long distances. The AIM 60 costs £159.00 incl. VAT (or £132.50 duty-free, US $215.40), while the smaller AIM 50 version costs £141.00 incl. VAT (or £117.50 duty-free, US $191.02). (USA prices at current exchange rates; shipping not included.) Both AIM 60 and AIM 50 are offered in Lincoln Green, Tan, or Black.
The AIM 60 is crafted from heavy-duty 1000 denier Cordura® nylon, and employs high-grade zippers and fasteners all around. On the front of the bag are two jumbo-sized, padded utility pockets. The larger pocket has a string of elastic straps that are ideal for magazines, and the pocket is large enough to hold a rear sandbag. The smaller pocket has elasticized, gusseted inner pockets for holding radios, rangefinders, tools, earmuffs, and personal gear. On the outside of the smaller front zippered pocket is a diagonal zippered compartment which can hold logbooks, maps or other flat items.
The main gun compartment has a detachable drag hood, adjustable internal weapon securing straps, and a cleaning rod sleeve. Extra thick foam padding protects the rifle and there is a stock support sleeve that cradles the butt. This is a really important feature. The sleeve supports the rifle's weight (keeping it off the zipper) when you use the bag in backpack mode.
Field Tests Demonstrate 'Quality in the Details'
Over the past couple months, Our "master fabricator" Mark LaFevers has used the AIM 60 to carry his gear at local tactical and varmint matches. He's impressed by the quality of the AIM 60: "In assessing this soft-sided rifle case from the UK, 'Top Flight' has to be the lead descriptor. The target market for this bag looks to be the extreme end of the performance spectrum, where demands on gear are the highest.
What impressed me most about this bag is how well thought-out the design is. Everywhere you look there are smart features that make the bag perform better, last longer, or provide better protection for your gear. To ensure the front drag handle won't fail, AIM provides heavy nylon webbing doubled over at the loop, triple-stitched six inches down each side of the bag. To better protect the rifle, AIM added a floor stiffener in the full length pocket provided for a cleaning rod, and a padded 2" flap inside the full length top zipper so that contents bear against the flap and not the zipper. To make the bag more versatile (and boost its carrying capacity) AIM provided over 30 external heavily-stitched web loop attach points for gear. And to ensure that the shoulder strap mounts never fail, AIM uses high-quality METAL clips and rings. The shoulder straps even stow cleanly inside a zippered compartment when not in use. In summary, the AIM bag showcases superior attention to detail in both design and construction.
This is no ordinary rifle case — and people notice that immediately. As I was getting ready to leave a local rifle match, I was stopped by one of the other competitors. 'Wait a minute', he said. 'Where did you get that bag… can I check it out?' After looking at the AIM for a minute, he said: 'You know I just spent a lot of money on the best bag I could find. But my bag doesn't have half the features that yours does. I wish I had bought one of these [AIM] bags instead.'" That's a pretty strong endorsement for the AIM.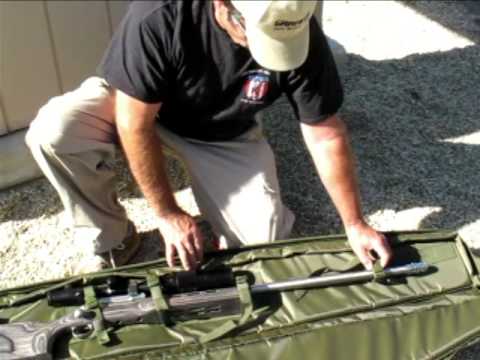 Here are some other reviews of the AIM Tactical Drag Bags:
"The Drag Bag is a proper sniper-style drag-bag with rucksack-style straps…It has some enormous pockets that will swallow an unbelievable amount of gear. The bag is packed with features…every time I use it I seem to find another well thought-out feature — like the quick-release straps which hold your rifle in place…The pockets have more pockets inside and elasticised retainers which stop all your bits 'n' bobs falling about. This bag is also longer than most I looked at. The price? Just [£138 for AIM 50] and I defy you to find one in the same class for anything like that." — Vince Bottomley (Target Sports, Nov. 2008)
"Full bore shooters… need a rifle bag that can be worn as a rucksack. It did not take me long to figure out the hard case I had for my rifle was of no use whatsoever. It could not hold my range book, ammo box or much else other than the rifle. My .308 Remington 700 is fitted with a muzzle brake and a huge 12-42 Nightforce NXS scope. The bag swallows this 53″ gun easily. It has two snap buckle securing straps inside the bag to hold the rifle securely as well as a stock support pocket [and] 5 snap buckles to ensure the gun remains in the bag. I like the fact that my £3000 gun is cradled and protected in this 'over the top' way. I no longer take a range bag when going shooting a tactical competition, everything fits in the AIM bag. The rucksack shoulder straps [make] for a very comfortable carrying system. This leaves your hands free for a [front] rest if you use one…." — Tim Finley (Gun Mart, Jan. 2008)
CLICK HERE for a Video Guide to the AIM 50 Drag Bag

Similar Posts:
Share the post "Gear Review: AIM 60 Tactical Drag Bag"
Tags: AIM Field, Drag Bag, rifle case, Tactical