April 4th, 2011
Olympic Quotas Earned and Team USA Strikes Gold in Sydney
The 2011 ISSF Combined World Cup shooting competitions were held in Sydney, Australia on March 21-31. In Sydney, the world's top shooters vied for coveted Olympic "Quotas" that would secure eligibility to compete at the 2012 London Olympic Games. 34 Olympic Quotas were awarded during the course of the 15 ISSF pistol, rifle and shotgun events in Sydney. Lead by its shotgunners, Team USA performed superbly in Australia, finishing with 8 total medals, including 3 Golds, more than any other country. China finished second in the medal count.
American Medal Winners:
Gold: Jamie Beyerle (Lebanon, PA), Women's 50m Rifle Three Position
Gold: Kim Rhode (El Monte, CA), Women's Skeet
Gold: Jon Michael McGrath (Tulsa, OK), Men's Skeet
Silver: Matt Emmons (Browns Mills, NJ), Men's 50m Rifle Three Position
Silver: Amy Sowash (Richmond, KY), Women's 50m Rifle Three Position
Silver: SFC Eric Uptagrafft (Phenix City, AL), Men's 50m Rifle Prone
Silver: Staff Sergeant Joshua Richmond (Hillsgrove, PA), Men's Double Trap
Silver: Caitlin Connor (Winnfield, LA), Women's Skeet
Young Americans Win Gold
The United States fielded one of the youngest teams in Australia. But the young shooters more than held their own. Team USA rifle shooter Jamie Beyerle dominated the Women's 50m three-position event, to win Gold with a total of 685.3 points. Beyerle's fellow American Amy Sowash finished second. Beyerle shot great in windy conditions that bothered many of her rivals. You can watch Jamie shoot in the first video linked below.
Another gold-medal performance was turned in by 18-year-old skeet shooter John McGrath, the current ISSF Junior World Champion. McGrath qualified for the Men's Skeet Final by hitting 124 of 125 targets, and then "cleaned" all his 25 Final targets. In an exciting finish, McGrath took the Skeet Gold Medal by beating 2007 World Champion Georgios Achilleos of Cyprus in a shoot-off.
Highlights of the 2011 ISSF Shooting World are now available on the ISSF's YouTube Channel. Linked below are videos of the Women's 50m 3-Position Highlights and Men's Prone 50m Air Rifle event. You can also visit www.ISSF-Shooting.org for the complete tournament results, interviews with shooters, and the latest international shooting news.
Women's 50m 3-Position (Featuring Jamie Beyerle)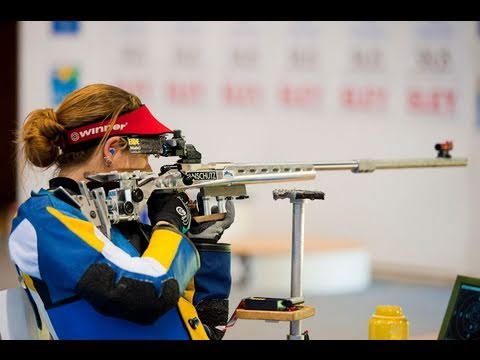 Similar Posts:
Share the post "Olympic Quotas Earned and Team USA Strikes Gold in Sydney"
Tags: ISSF, McGrath, rifle, Shotgun, Skeet, Sydney, Team USA