April 11th, 2011
Scherer Earns Olympic Quota in Korea World Cup
In a near-perfect performance, Sarah Scherer, a sophomore at Texas Christian University (TCU), claimed the gold medal in Women's 10m Air Rifle at the ISSF World Cup Korea. Scherer entered the final round tied with Poland's Agnieska Nagay, a two-time Olympian. Scherer then nailed an impressive 103.5 score in the final, to finish with 501.5 total points, winning by one point. Nagay finished with 500.5 total points (398+102.5) for the silver medal and a quota place for Poland. Finishing third was Serbia's Ivana Maksimovic with 499.4 total points (397+102.4).
Sarah, an All-American and NCAA Champion shooter at TCU, wowed the crowd. National Rifle Coach Major Dave Johnson said, "Sarah was a focused machine. I was impressed with her control and determination." You can watch Scherer shoot in the ISSF Video below (action starts after 35-second intro).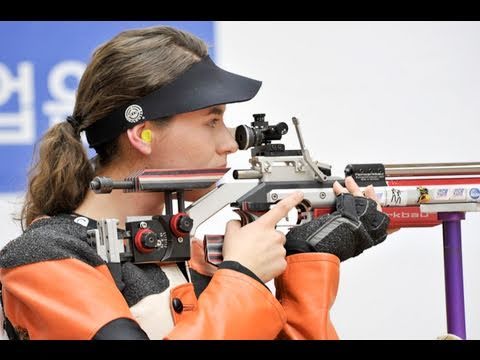 Not only is this a huge accomplishment for Scherer, she also brings home a much-needed 2012 Olympic quota for Women's 10m Air Rifle. In an ISSF interview, Scherer said, "It has been my first time in a final, and it was a bit intimidating to shoot shoulder to shoulder with these experienced athletes. But I have been training hard to get here, so I was quite confident. It feels great to win a quota place for my country." This was Scherer's first ISSF Gold. But she is no stranger to the podium. Sarah was the 2010 NCAA National smallbore rifle champion and the 2010 USA Junior Olympics air rifle champion.

Similar Posts:
Share the post "Scherer Earns Olympic Quota in Korea World Cup"
Tags: Feinwerkbau, ISSF, Korea, Sarah Scherer, World Cup