January 28th, 2011
Schmidt & Bender has a very impressive new tactical scope in the PMII (Police and Marksman) line, the 3-20x50mm PM II/LP/MTC/LT. A first-focal-plane design, the new 3-20X PMII features very bright glass, and a double-turn, locking elevation turret. The scope can be ordered with a variety of reticles, and either 1/4-MOA clicks or one-tenth milrad clicks, with MTC turrets.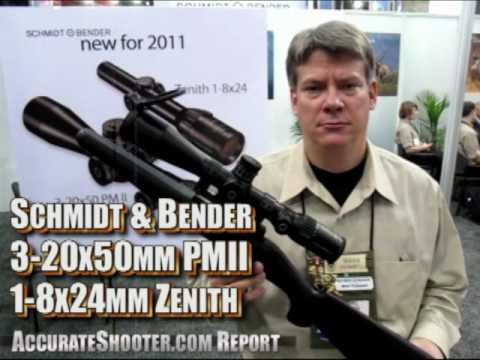 First delivered in late 2010, this unit has already drawn praise from the tactical community. JR, posting on SnipersHide.com Forum, declared: "I had the opportunity yesterday while at the Modern Day Marine show in Quantico to take a look at the new 3-20×50 PM II and to say that it impressed would be an understatement. The overall size was right between the 3-12 and the 4-16 and the 50mm objective is perfectly proportioned to this optic. Locking MTC turrets are very user friendly and it's nice to have the option to leave them in the unlocked position when needed. Having a parallax range of 25 metres to infinity can also be very beneficial in many circumstances. Overall I was very impressed with the newest PM II … this scope will most definitely be sitting on one of my rifles before the year is over." Another observer, writing in the Optics Talk Forum states: "If money is no object, consider the Hensoldt. But I think the scope that will be hardest to beat in the high-end tactical market will be the Schmidt & Bender 3-20." That's probably an intelligent call. However, at $3100.00+ per unit, we wonder how many shooters can actually afford the new 3-20x50mm PMII.

New Illuminated 1-8×24 Hunting and Multi-Gun Scope
At about $1899.00, Schmidt & Bender's new 1-8x24mm Zenith scope is considerably less expensive. This scope is designed for short to medium-range tactical use, multi-gun competition, and hunting. One nice feature is that the scope has a "pure 1-power" setting that is 100% parallax-free. There will also be an illuminated version offered for $2149.00 US.
Share the post "SHOT Show Report: New 3-20x50mm PMII and 1-8x24mm from Schmidt & Bender"