August 23rd, 2010
K.C. Wins A Tough Match on Home Turf
K.C. Eusebio, who grew up in Southern California, returned to his home turf to capture the Men's Championship at the 2010 Steel Challenge this weekend in Piru, CA. This was K.C.'s third overall win at the Steel Challenge. Trailing Team Glock's Dave Sevigny for much of the match, K.C. pulled ahead in the final three stages to capture the Overall title, his third Steel Challenge Championship, with an 80.27 second total time. Right behind was Sevigny at 82.84. That was an impressive performance considering Dave was running a modified Glock against "full-race" 1911 customs, some of which cost $3500 or more. Even more amazing was the legendary Jerry Miculek, who finished third shooting a Smith & Wesson revolver with iron sights. Jerry's total time was 83.88.
Jessie Abbate Wins 3rd Steel Challenge
In the womens' Division, new Team Smith & Wesson shooter Jessie Abbate of Georgia won her second consecutive womens' Steel Challenge Championship, and the third in her career. In addition to winning the overall title, Abbate won the Ladies Steel Master title which represents the best combined score of the Open, Limited, and Rimfire events. Jessie won the Rimfire event on Day 1, having the best time on all but one of the eight stages. After that Jessie was locked in a tough battle with her S&W teammate Julie Golob, who captured the Limited Event on Friday (Day 2). In a video interview with AccurateShooter.com, Abbate confessed to being "off her mental game" on Day 2, but she pulled it all together on Saturday (Day 3), capturing the Ladies Overall and Steel Master titles. Kay Miculek, a seven-time Women's World Speed Shooting Champion, finished second. Watch the video below for a lengthy interview with Jessie.
Young Guns Rise to the Top
This 2010 Steel Challenge showcased rising young stars. K.C. Eusebio recently left the USAMU to enroll in college. Though he no longer has the time or resources to train and compete as often as he could with the USAMU, K.C.'s skills haven't declined. A past winner of the Steel Challenge, K.C. was fast on all stages and he even nailed a new world record on the Speed Option stage. K.C. rose to the challenge in this match, outshooting defending Steel Challenge champ Max Michel, who had not lost a match all year. We talked at some length with K.C.'s father, who was happy to have a chance to be with his son again: "K.C. left the Army because he wanted to complete his college education. He's doing that in Georgia, so we still don't get to see him that much. But it is great to see K.C. shooting in California again, and winning again."
NOTE: The video has loud gunshot noise. Turn down your speakers if at work.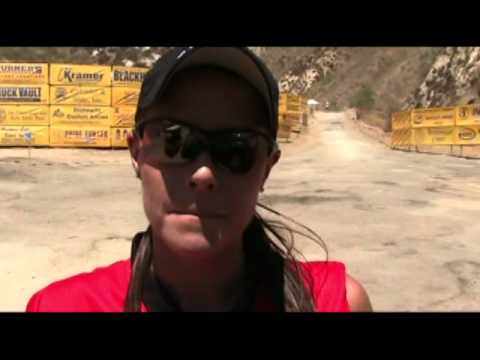 Oregon Teen Wins Rimfire Event
Another up-and-comer in the mens' ranks is 17-year-old Ryan Leonard from Oregon. Ryan took the rimfire title, beating all the older sponsored pros in the process. Ryan finished tenth overall (among all competitors) to win the Junior World Speed Shooting title. Ryan has speed to burn and exceptional accuracy. Ryan actually prefers centerfire handgunning, but he obviously knows how to get the most out of the low-recoil rimfire pistols (Ryan shoots a modified Ruger MKII). When asked for his secret of success, Ryan smiled and said: "Don't miss — Shoot the best you can, but don't miss." Ryan is a gifted student-athlete, currently taking college courses while completing his high school education. We expect Ryan to be a major player in the speed-shooting game in the years ahead. He is skilled, dedicated, and gifted with exceptionally fast reflexes.
From Top Shot to the Steel Challenge
If there was a crowd favorite among all the competitors it might be J.J. Racaza who was one of the strongest competitors on the History Channel's popular new Top Shot TV show. A blazing fast shooter who exhibited the ability to learn new skills quickly (such as archery and knife-throwing), many viewers favored J.J. to win the whole competition. He was the most consistent performer on the "Blue Team" throughout the show.
J.J. was among the last three competitors on Top Shot, but lost in a shoot-out where the three finalists got to choose their weapons and targets. J.J. told us this involved a great deal of strategy, because each pistol and rifle used on the show had quirks that the competitors had to log into memory: "You needed to know the dope on each gun. One rifle, for example, shot 6″ low at 100 yards, while one of the pistols shot low left. You had to recall those things or you didn't have a chance." A true competitor, J.J. was disappointed that he didn't win the $100K Top Shots prize, but he said that the experience was memorable: "I walked away … empty-handed but I walked with a lot of lessons, and a lot of friends too."