September 17th, 2011
The gyro-stabilized two-wheeled Segway was supposed to revolutionize personal transportation. That may never happen (mall cops excepted), but remote-controlled Segways just might revolutionize the way military and police personnel train for urban engagements.
Robotic Segway "Smart Targets" for Live-Fire Training
An Australian company, Marathon Robotics, has created wheeled robot targets — remote-controlled Segways fitted with target silhouettes. The Segway Robots can move and respond like humans, ducking into doorways, or dispersing at the sound of gunfire. This provides challenging, ultra-realistic training for military and police sharp-shooters. This is not just science fiction. Australian Special Forces units already train in a mock urban center populated with Marathon's rolling robots. And the U.S. Marine Corps has hired Marathon to create a similar robot-equipped, live-fire training venue.
Marathon combined computer gaming technology with armored, remote-controlled Segways to create the ultimate 21st century moving target. The lower halves of the Segways are armor-plated, so the expensive electronic innards don't get damaged by an errant shot. On top is mounted a replica human torso. The torso section can be clothed to distinguish "civilians" from military targets, or to distinguish terrorists from hostages.
Marathon's sophisticated software can control multiple Segway Robots at the same time. A group of Segways can be programmed to mimic a squad on patrol, or a group of terrorists holding hostages. The control software allows autonomous or "intelligent" behavior by the Segway Robots. For example, the Segways can disperse automatically at the sound of a gunshot, and the Segways can be trained to seek cover in hallways or behind objects. Importantly, the Segway Robots are capable of human-like movement — they can stop quickly, turn 360° and retreat slowly, or accelerate to a human running pace. Marathon's Segway Robots are equipped with laser range finders so they can avoid running into obstacles, including people on the move. The "Segbots" lean forward slightly as they walk forward, like people do.
To really understand how the Robotic Smart Targets work, watch this amazing video: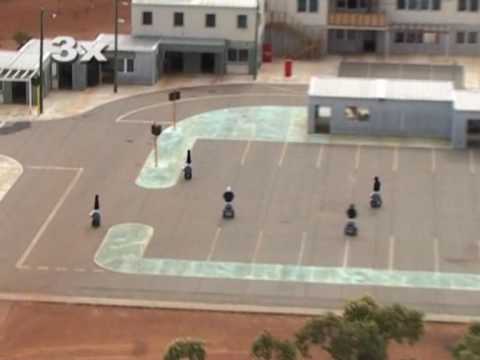 RESOURCES: Marathon Targets Webpage | Smart Targets Product Info (PDF) | Photo Gallery