May 27th, 2012
The 40th Annual Firearms Industry Super Shoot, held at the Kelbly's Range in North Lawrence, Ohio, concluded yesterday, May 26. Now in its 40th year, the Super Shoot is the biggest short-range benchrest competition on the planet, drawing upwards of 400 competitors each year. The Super Shoot attracts top 100-yard/200-yard Benchrest shooters from throughout the world.
According to reports from Ohio, Jeff Summers is the Overall Two-Gun Super Shoot Champion. We're told that Larry Costa finished second, Jeff Gaidos took third, fourth was Wayne Campbell, and Gene Bukys secured fifth position overall. Posting on Benchrest Central, Scotty Crawford wrote: "This is Jeff's second Super Shoot win. I would like to know how many top tens he has had at the Super Shoot. The cream always rises to the top…. Congratulation to Jeff and Larry Costa and to all the winners."
Here are some preliminary results for the LV and HV matches. Note: These rankings are subject to final verification, and they are not official. We are still waiting for ranked results from Saturday's 200-yard Light Varmint (10.5-lb class) competition, and the actual combined scores for the Two-Gun.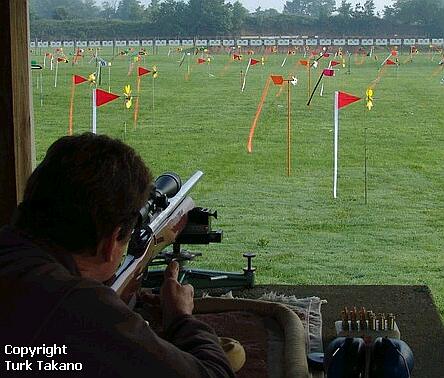 Heavy Varmint (13.5-lb) 100 Yards
1st Bill Goad 0.1766
2nd Jeff Summers 0.1918
3rd Bart Sauter 0.1934
4th Hal Drake 0.1972
5th Ken Pritt 0.2056
Heavy Varmint (13.5-lb) 200 Yards
1st Jeff Gaidos 0.2428
2nd Jeff Summers 0.2656
3rd Larry Costa 0.2729
4th Wayne Campbell 0.2769
5th Barney Small 0.278
Heavy Varmint (13.5-lb) Grand Agg
1st Jeff Summers 0.2287
2nd Larry Costa 0.2413
3rd Jeff Gaidos 0.246
4th Wayne Campbell 0.2617
5th Ken Pritt 0.2626
Light Varmint (10.5-lb) 100 Yards
1st Jim Carmichel 0.1922
2nd Cris Harris 0.1946
3rd Tony Boyer 0.1984
4th Jack Neary 0.2044
5th Kip Jones 0.2074