December 24th, 2014
New Rotary Tumbler for Wet-Cleaning Cartridge Brass
More and more shooters are "wet-tumbling" their brass (in liquid) with reusable polishing media, rather than using dry media in a vibratory tumbler. The "wet-cleaning" method works best with a rotary tumbler fitted with a water-tight, horizontal drum to hold your brass, cleaning solution, and stainless, pin-type media. The rotary tumbler of choice has been the Thumler's Tumbler Model B Heavy-Duty. That is a great, sturdy machine, but now you have a more affordable option.
Frankford Arsenal has introduced a "Platinum Series" rotary tumbler designed to clean cartridge brass with liquid and stainless media.The watertight, polymer drum rides on four rollers which rotate the drum around its horizontal axis. Two filters are provided so you can quickly separate your brass and media. A built-in timer allows you to set tumbling sessions up to three hours. Frankford Arsenal says its new product will clean up to 1000 cases of .223 Rem brass. That's impressive capacity.
The Frankford Arsenal rotary tumbler is sold by major retailers including Grafs.com and Cabelas. You'll find the best prices online.

Amazon Deal
Update 12/28/2015: The Amazon special has expired. As with all sales, timing is everything. Check the link at right for current pricing. You can also check with other vendors such as Midsouth Shooters Supply.
How to Wet-Clean Your Brass in a Rotary Tumbler

On our main Accurateshooter.com website, you'll find a comprehensive review of the STM system for cleaning cartridge brass with stainless media. To clean brass with stainless media, start with five pounds of small stainless pins sold by StainlessTumblingMedia.com. Place these along with a gallon of water, a little liquid cleaner, and two pounds of cartridge brass in a rotary tumbler, and run the machine for one to four hours. CLICK HERE for Brass Cleaning System Review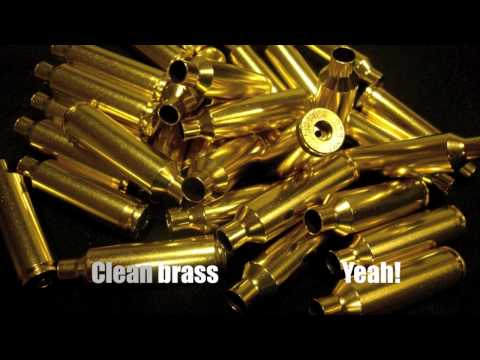 Forum Member Tests STM System
Our reviewer, Forum member Jason Koplin, purchased the STM media and a new Thumler's Tumbler. He then tested the STM cleaning procedure on his own brass, including some extremely dirty and tarnished "range pick-up" brass. Jason was thoroughly impressed with how well the STM process worked — as you can see from the "before and after" photos below. Brass which looked like it was ready for the scrap heap was restored to "like-new" appearance. The process works equally well on both rifle brass and pistol brass. Jason observed that one surprise benefit of the STM cleaning procedure is a big reduction in noise. Jason said the water-filled rotary tumbler was much quieter than his vibratory tumblers.
Similar Posts:
Share the post "New Rotary Tumbler for Wet-Cleaning Cartridge Brass"
Tags: Frankford Arsenal, Liquid Polishing, Platinum Series, Stainless Media, STM, Thumler's Tumbler