May 10th, 2019
Rules of Firearms Gift Transfers — How to Stay Out of Trouble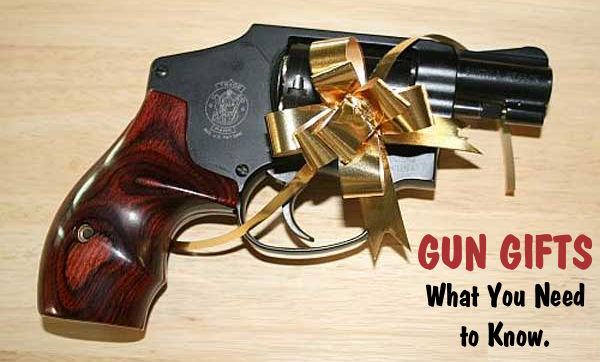 Image Courtesy NSSF
Mother's Day is Sunday, May 12th, and Father's Day is just a month away. Perhaps you're thinking about giving your parent(s) a firearm for sporting use or self-protection. While gifting a gun is allowed in most jurisdictions, there are important state and Federal laws with which you must comply. And while Federal laws cover the whole country, the rules on firearms gift transfers vary significantly from state to state.
Bottom line here — you need to know the law BEFORE you deliver that shiny new firearm to a family member, close friend, or relative.

Image Courtesy NSSF. This story is based on an NSSF Article.
The first thing to remember if you're thinking about giving someone a gun is that … it's a gun! You already know that ownership of a firearm brings with it some serious legal and ethical obligations that other consumer products don't. So let's look at some questions you may have about giving a firearm as a gift.
The first question you have to ask is whether the intended recipient can legally own the firearm where he or she lives. With more than 20,000 different gun laws on the books, even the kinds of firearms that law-abiding citizens can own vary from place to place. For example, juveniles (under age 18) generally speaking are precluded by law from possessing a handgun. Check out the Bureau of Alcohol, Tobacco, Firearms and Explosives (ATF) website for an overview of local laws and, whatever you do, don't forget that you can never under any circumstances transfer a firearm to someone you know — or have reasonable cause to believe — legally can't own one. That's a federal felony, so be careful.
There's no federal law that prohibits a gift of a firearm to a relative or friend who lives in your home state. Abramski v. United States, a recent Supreme Court decision involving a "straw purchase" of a firearm did not change the law regarding firearms as gifts. The following states (California, Colorado, Connecticut, Delaware, New York, Oregon, Rhode Island, Washington State) and the District of Columbia require you to transfer a firearm through a local firearms retailer so an instant background check will be performed to make sure the recipient is not legally prohibited from owning the gun. Maryland and Pennsylvania require a background check for private party transfer of a handgun. There are exceptions, so it's important to check the law of your state or ask your local firearms retailer.
Consider a Gift Card Instead of Direct Gift
The ATF recommends that if you want to give someone a new firearm, rather than going to a gun store and buying the gun on your own, consider instead purchasing a gift certificate/card from your favorite gun retailer. Then give that gift card as the present. That way the recipient can choose the exact gun he or she wants, and there's no question about who is "the actual buyer of the firearm," which is a question any purchaser must certify on the Federal Form 4473 at the time of purchase. The Gift Card option avoids any "straw purchaser" issues.
Intra-Family Transfers and Antique Arms
What if you want to give "Old Betsy," your favorite old deer rifle, to your son or daughter as a college graduation gift? Again, in most states, there's no law that says you can't, but some states require even intra-family transfers to go through a licensed dealer. Remember, you can never transfer a firearm directly to another person who is a resident of a different state. In that case, you must transfer the firearm through a licensed dealer in the state where the person receiving the gift resides. Using a gift certificate from a firearms retailer near where the recipient lives might be a good solution. Pre-1898 antique firearms are generally exempt from the dealer requirement. [But check with the laws in your jurisdiction]. Be safe and check with your dealer or local law enforcement before you hand over your prized possession.
Regulations on Firearms Shipping to Third Parties
When you intend to transfer a gun, there are important rules on interstate shipping*. Generally speaking, you can only ship a handgun by common carrier (but not U.S. Mail) and a long gun by U.S. Mail or common carrier to a federally licensed dealer, but not to a non-licensed individual. With all carriers, federal law requires you to declare that your package contains an unloaded firearm. To be safe, always consult your carrier in advance about its regulations for shipping firearms. Also check your state laws on transfers.
*Different rules may apply to shipping to parties IN-STATE or shipping firearms to yourself in temporary care of others. Always consult your own state laws, but here are some FAQs copied directly from the ATF.GOV website:
Q: May a nonlicensee ship a firearm through the U.S. Postal Service?
A nonlicensee may not transfer a firearm to a non-licensed resident of another State. A nonlicensee may mail a shotgun or rifle to a resident of his or her own State or to a licensee in any State. The Postal Service recommends that long guns be sent by registered mail and that no marking of any kind which would indicate the nature of the contents be placed on the outside of any parcel containing firearms. Handguns are not mailable. A common or contract carrier must be used to ship a handgun.
[18 U.S.C. 1715, 922(a)(3), 922(a)(5) and 922 (a)(2)(A)]
Q: May a nonlicensee ship a firearm by common or contract carrier?
A nonlicensee may ship a firearm by a common or contract carrier to a resident of his or her own State or to a licensee in any State. A common or contract carrier must be used to ship a handgun. In addition, Federal law requires that the carrier be notified that the shipment contains a firearm and prohibits common or contract carriers from requiring or causing any label to be placed on any package indicating that it contains a firearm.
[18 U.S.C. 922(a)(2)(A), 922(a) (3), 922(a)(5) and 922(e), 27 CFR 478.31 and 478.30]
Q: May a nonlicensee ship firearms interstate for his or her use in hunting or other lawful activity?
Yes. A person may ship a firearm to himself or herself in care of another person in the State where he or she intends to hunt or engage in any other lawful activity. The package should be addressed to the owner. Persons other than the owner should not open the package and take possession of the firearm.

Similar Posts:
Share the post "Rules of Firearms Gift Transfers — How to Stay Out of Trouble"
Tags: ATF, BATFE, FFL, Firearms Shipping, Gift Transfer, Gun Laws