May 23rd, 2008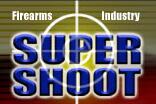 The Firearm Industry Super Shoot is underway right now at the Kelbly's Range in North Lawrence, Ohio. We're told that Tony Boyer, the all-time Hall of Fame points leader, won the Heavy Varmint 100 on Thursday, with a "teen" Agg. For you non-benchresters, that means a 5-target, 5-shot per target average of 0.1300″- 0.1999″.
Lou Murdica, who dominated the Cactus Classic earlier this year, had a 4th and 5th going into Friday's events, making him the current two-gun leader with a .2195″ combined Aggregate, after two days.
Conditions were not as blustery as in previous years. Shooters reported consistant, cool temperatures with considerable humidity but no rain. Wind so far have not been bad, with average speeds in the 3-6 mph range with some gusts to 15 mph. Stronger winds are predicted for the shooting today (Friday) and Saturday.