March 15th, 2009
Roto-Stand for Gunsmiths and Hobbyists
The Roto-Stand is a handy, innovative product that's great for gunsmiths and anyone who needs to work on pistols or action and trigger assemblies. The product consists of two elements, a large, stable round base, plus a rotating, swivel head that can be locked in position. There are two different head assemblies available: 1) a general-purpose hobby vise with padded jaws; and 2) an adjustable, internal magazine post used to hold pistols. In the photo below you can see the Hobby Vise securing a Ruger 10/22 action. The Vise is not limited to gun applications — it will also secure electronics, fishing lures, RC motors, and other hobby items.
The video below shows the Roto-Stand with Mag Post holding a 1911 pistol. The Mag Post secures your pistol from inside the magwell. The Mag Post has an adjustable internal wedge so you can adjust the amount of "grip". Three different Mag Posts are offered — one for 1911s, a second for Sig P220s, and a third for most Glock models. Watch the video below to see the Roto-Stand and Mag Post used with a 1911 pistol.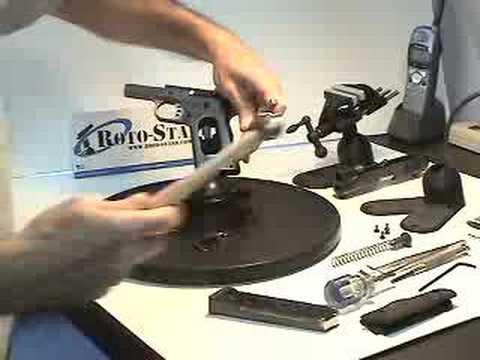 The Roto-Stand and related components are sold by BAT Industries, LLC of California (no connection to BAT Machine in Idaho). The base assembly, by itself, costs $69.95. The Hobby Vise is $39.95, and the Mag Post is $19.95. BAT Industries offers a 30-day money-back guarantee.
Roto-Stand Base
$69.95
Hobby Vise
$39.95
Mag Post
$19.95
Similar Posts:
Tags: Gunsmithing, Hobby Vise