August 15th, 2010
Powder Valley, a major vendor of powder, primers, brass, bullets, and loaded ammo, has received some large shipments of popular powders including Hodgdon Varget and IMR 8208 XBR. Powder Valley also has the hard-to-find Alliant Reloder 17 powder in stock, in both 1-lb and 5-lb containers.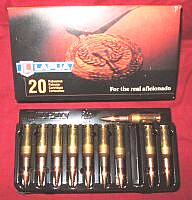 Powder Valley Now Stocks Factory-Loaded Ammo
FYI, Powder Valley is now stocking quality factory-loaded ammo from Lapua, Hornady, Nosler, Prvi Partizan, and Wolf. If you're looking for match-grade Lapua factory ammo or the Hornady .223 Rem, 6.5 Creedmoor, and .30-06 ammo, give Powder Valley a call at 800-227-4299.
Powder Valley Inventory Updates on Facebook
Powder Valley now posts recent product arrivals on Facebook. If you have a Facebook account you can link to the Powder Valley page to get the latest updates.
August 13
IMR 8208: Finished up the backorders on 8208 8#. We received in about 200 kegs from Hodgdon last week and have filled backorders that were placed prior to June 25.
August 12
Large shipments of primers received over the last couple days. Received 2 million Winchester, 1.2 million Federal, 1.5 million Rem and 6 million Tula. Also received large shipment of Winchester brass.
August 6
Varget 8-lb jugs have arrived. We won't update the website until Monday. Facebookers go ahead and put your order in now and you will get first dibs.
August 2
Received in about 2 million Remington primers.  Also, received a large shipment of backorders from Berger. We will be receiving about 125,000 Federal Small Pistol primers later this week and about 2-2.5 million in 3-4 weeks. We will begin listing these primers on the website August 3 so you can place an order if you would like.