August 24th, 2010
A Texas shooter put together a great video covering the East Texas Championship Benchrest Shootout, held August 20-21 in Huntsville, TX. This match, the first at the new Huntsville Range, was co-sponsored by the Pine Valley Benchrest Shooters Association and S&S Precision Rifles of Argyle, TX. On the Friday before the main match, there was also a 500-yard Egg Shoot.
In the video you can see Don 'Stick' Starks of S&S piloting a 6.5×47 Lapua long-range varminter he built on a candy-red Robertson Composites 'Speedy' F-Class stock. Stick and other competitors were shooting at large (120mm), medium (90mm), and small (60mm) clay birds at 400 yards. Over the course of the day, competitors fired 50 record rounds at the targets. Each shooter came to the line five times to shoot 10 rounds per stage in seven minutes or less. The 'top shot' who nailed the most birds took home $600.00 in cash. There was also a team challenge with a $430.00 winning payout.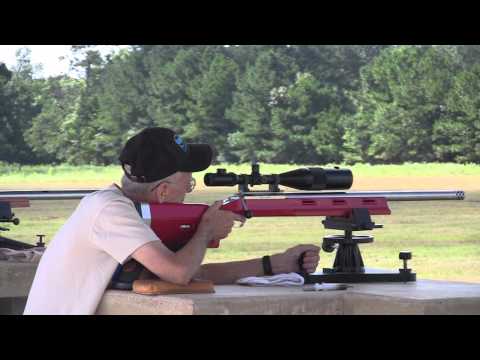 Thirty-six competitors attended this fun match with $1300.00 in total prize pay-outs for the top four bird-busters. Jason Leavelle won the $600 first-place prize with an 810 score, while Dr. Darrel Martin earned $400 for his second-place finish, 50 points behind Leavelle. Tymn Combest was third, earning $200, and Arthur McMeans took home $100 for fourth place. Pudge Morris was the Junior Division winner. We congratulate all the money winners — it wasn't easy. According to Mike Cockcroft, who helped run the match, "it was 100 degrees, the winds were strong, and the mirage heavy." The only wind indicators are range flags at the targets and a couple of standard benchrest flags out at about 100 yards.
Match Winner Used a 6.5×284
Forum member Joe Duke reports: "Jason Leavelle shot a nice 810 out of 1000 (possible) points. He is the winningest shooter on our circuit (fondly known as the 'Redneck Circuit') and is always tough to beat. He shoots a 6.5-284 crafted by Sam Duke. Jason's rifle is built on a Stainless Steel Viper action and sports a Krieger 8.5-twist barrel. I can't think of one of our shoots that was won with anything other than a 6.5-284 in the last three or four years."
Rules were fairly "wide-open" for the Saturday Shoot-Out, so you saw everything on the line from varmint rifles to 40-pounders. Most guns are custom bench rigs weighing 17 to 30 pounds. All shooters competed in the same class with these basic rules:
NO RAIL GUNS OR RETURN TO BATTERY GUNS
40 POUND MAX WEIGHT LIMIT
NO SIGHT OR SCOPE RESTRICTIONS
NO CALIBER OVER .30
NO ONE-PIECE RESTS OR GUN-VISES
NO Shooter-Supplied WIND FLAGS
NO SPOTTING EXCEPT DURING SITE-IN ROUND
NO TANK OR CLAM TYPE MUZZLE BRAKES
You should definitely watch the video. It is extremely well made and there are some seriously nice rifles on display. Plus it sure looks like the new Huntsville facility is a beautiful range (even if the Texas winds did blow in the afternoons). CLICK HERE to download Match Rankings and Scores (PDF File).