October 17th, 2010
Hornady Introduces Superformance Varmint Ammo
In early 2011, Hornady will start shipping its new, "enhanced velocity" Superformance™ Varmint ammunition for four chamberings: 222 Remington, .223 Remington, 22-250, and .243 Winchester. This ammo uses proprietary, blended powder formulations to achieve faster velocities that most other factory-loaded ammo (for these cartridge types). In addition, the propellant burns more completely in the barrel, reducing the amount of ejecta (i.e. powder residue that exits the muzzle). By burning the powder more completely in the barrel, Hornady claims the Superformance ammo delivers higher velocities without increased recoil.
New 53gr V-Max for .223 Rem Ammo
All four types of Superformance Varmint ammo are loaded with polymer-tipped V-Max bullets. The .223 Rem ammo features a new 53-grain V-Max bullet with a decent 0.290 G1 Ballistic Coefficient. Hornady claims that: "This new bullet… enables this load to produce trajectory and wind drift equaling that of a conventional 22-250″. Well, it may come close to factory loaded 22-250 rounds from other manufacturers, but any competent hand-loader can produce 22-250 or 22-6XC loads that easily outrun Hornady's 53gr V-Max load. As with any advertising claims, run the numbers yourself. The chart below shows Hornady's claimed velocities for its Superformance Varmint ammo:
Hot-Rod Ammo?
Hornady released a somewhat "over the top" video touting its Superformance Varmint Ammo. We chuckled at the drag-racing animation, but you will find some useful info in the second half of the video: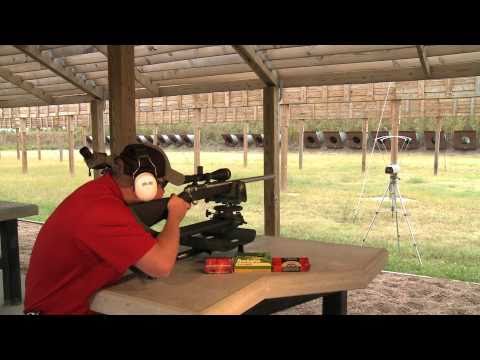 Similar Posts:
Share the post "Hornady Introduces Superformance Varmint Ammo"
Tags: ammo, Hornady, Superformance, V-Max