July 24th, 2011
Video Features Shooting Programs for Women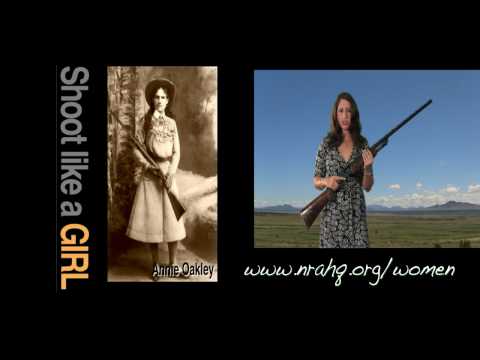 The best thing that can be done for the future of sport shooting in America is to recruit more female and junior participants. Young people are the future of the sport. Involving women in shooting can help reverse a "gender gap" in voting patterns that has favored anti-gun politicians. The more we can get women to enjoy shooting and adopt a positive attitude towards firearms, the harder it will be for anti-gun forces to marshal support for restrictive new laws.
The above video features NRA programs for women of all ages and experience levels. Such programs include Women On Target® (WOT) Instructional Shooting Clinics, hunts for women, and the popular Women's Wilderness Escapes. There are even ladies-only WOT Postal Matches. Ladies can also take part in all the NRA competitive shooting disciplines: handgun, trap/skeet, air rifle, smallbore, silhouette, high power, F-Class, and even the new NRA-sanctioned multi-gun matches.
Junior Womens' Programs
Young women have the chance to participate in many specialized shooting programs for juniors, including the Youth Hunter Education Challenge, NRA Day events, CMP Junior leagues, and the Winchester/NRA Marksmanship Qualification Program. The NRA Foundatrion also offers a Women's Wildlife Management/Conservation Scholarships. This women's scholarship, from the Women of the NRA, is a renewable, one-year, $1,000 scholarship available to full-time college juniors or seniors with a minimum grade point average of 3.0, majoring in wildlife management/conservation.

Similar Posts:
Tags: Juniors, NRA, shooting, Wilderness, Women