May 23rd, 2013
6mm Dasher Basics — Bob Hoppe Talks about Loads
The 6mm Dasher is based on the 6mm BR cartridge with the shoulder blown forward about 0.100″ and "improved" to 40°. Case capacity is raised to about 41.0 grains. This allows the Dasher to drive 105-108gr bullets comfortably at 2970-3000 fps without over-stressing the brass. A popular load used by many successful Dasher shooters is 32.5 to 33.0 grains of Reloder 15, CCI 450 primers, with 105gr Berger VLDs, .010″ in the lands, or Berger 105gr Hybrids .015-.020″ off the lands (jumping). At the upper end this is a "warm load" and should only be used with fire-formed brass. Norma 203B is very, very similar to Reloder 15, and may be more readily available in the near future. As with any load, start 10% low and work up.
You may also have good luck with Hodgon Varget powder. Forum Member Rodney Wagner recently shot a spectacular IBS-record-setting 0.349″ five-shot group at 600 yards. Rodney was loading 32.5 Grains of Varget with CCI 450 primers and Berger 108gr BTs seated about .020″ off the lands (jumping). In preparation for fire-forming his Dasher cases, Rodney used a .257 expander to create a false shoulder on his case necks. This helps stabilizes the case with a good "crush fit" when fire-forming, but other methods of forming Dasher cases (including hydro-forming) can work well also.
Robert Hoppe, one of the top 600-yard shooters in the country, was the 2009 NBRSA 600-yard champion. In 2007, shooting a 6 Dasher, Robert nailed a 0.5823″, 5-shot group. At the time it was the smallest group ever shot in 600-yard registered benchrest competition. In 2008, John Lewis shot even smaller with an IBS Heavy Gun, but Robert's 0.5823″ still remains the NBRSA 600-yard record, and we believe it is the second smallest group ever shot at 600 yards (in registered BR competition) by a 17-lb class rifle. Robert has been very successful in the 600-yard game, and is one of the best 600-yard shooters in the West. He knows how to wring the best accuracy out of the 6mm Dasher cartridge. Here Robert offers some tips on load development and tuning for the 6mm Dasher.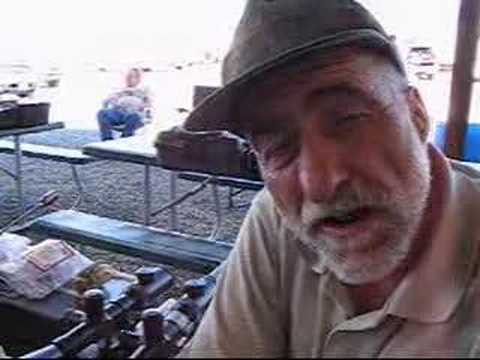 Similar Posts:
Tags: Dasher, Hoppe, Reloading, Rodney Wagner