December 4th, 2013
Tipton Best Gun Vise on Sale for $49.99 at Cabelas.com
Every shooter needs a gun vise to hold a rifle securely during cleaning, scope-fitting, and other operations. Ideally the vise should adapt to a variety of firearms and have storage for patches, jags, and solvents. The Tipton Best Gun Vise fits the bill, and right now you can get this versatile vise for just $49.99 at Cabelas.com. The Tipton Best Gun Vise is an highly-adaptable unit that can be configured in many ways.
This is a very good deal — you may want to jump on it. Consider this — the lowest price we found elsewhere was $81.57 at Amazon.com. Cabela's normally sells this unit for $99.99, so the $49.99 Sale Price is a steal.
Best Gun Vise Offers Great Adjustability

On the "Best" Vise, the front support, center support, and rear support all slide back and forth AND adjust for height. That makes the Best Vise incredibly versatile. It has a convertible central support that works well for AR rifles, and even some handguns. One Tipton Best Vise owner explains: "I am a gunsmith and am always putting guns in awkward positions to work on them. The versatility from the adjustable parts of this vise makes those once awkward positions stable and solid. I have yet to find a position the vise would not hold my gun in. This product was very well thought out and is well worth the money."
Another verified owner of the Tipton Best Gun Vise says: "The center post is reversible with long and short towers which makes it great for break-open guns like single shots, over/under, and my favorite, my AR. The clamps can be pre-adjusted so that you just place the buttstock between the protective clamp pads and squeeze the cam-locks on each side and you're ready to clean, work on, or even [do a bore-sighting]. The vise has a nice assortment of different shaped storage slots (some round, some rectangular) to hold solvent, patches, brushes or other tools. It is very sturdy… and made to last."
To really understand how the Tipton Best Gun Vise can adapt to just about any rifle, you have to see it in action. In the video below, MidwayUSA President Larry Potterfield puts a Best Gun Vise through its paces, and shows hows to adjust the various supports.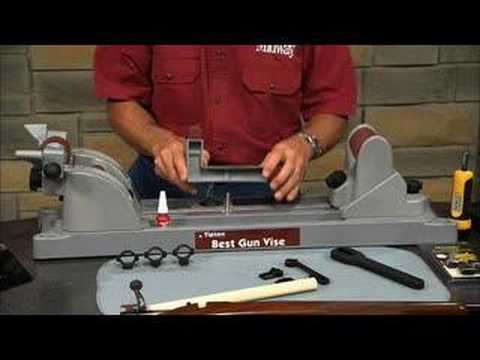 Sale Find by EdLongrange. We welcome reader submissions.
Similar Posts:
Share the post "Tipton Best Gun Vise on Sale for $49.99 at Cabelas.com"
Tags: Cabelas, Cabelas.com, Cleaning Cradle, Discount, Gun vise, Rifle Vise, Sale, Tipton Best