May 2nd, 2014
With all the talk about Dashers, 6.5×47 Lapuas, or the big 7mms, it's worth remembering that the "plain Jane" 6mmBR Norma really is a superb mid-range cartridge. That was demonstrated recently at the 2014 Roanoke Egg Shoot, a clay-bustin' multi-distance match with targets at 330, 425, and 500 yards. At Roanoke, the 6mmBR (aka 6BR) was the most popular chambering. In fact, 25 out of 43 rifles (58%) were 6BRs. And this little cartridge did most of the winning. In Factory Class, seven of the Top 10 were 6BRs, including first and second place. In Open Class, eight of the Top 10 were 6BRs, including second and third place. And the Open Class winner, a 6BRX piloted by Forum member Mark Schronce, was a 6BR Improved, formed from 6mmBR parent brass.
Mark tells us the conditions were great this year: "We had eleven clean scores [of 15] in Open class. One of the 15s was shot by 8-year-old Cash Brown. Watch out for this young man, he is a shooter!". With so many cleans there were many shoot-offs to determine the Top Three in each class. Mark explains: "We shoot one round each, no sighter at 500 yards, on 3.5″ clays, until one guy wins."

*Mark also shot a 15 with his second rifle, chambered in 6mmBR Norma. Mark's Open Class-winning 6BRX rifle featured a Bat B action and Mike Davis-chambered 26″ Krieger 1:8.5″-twist barrel. Mark loaded Berger 105gr VLDs, pushed by Varget and Fed 205M primers.
Young Guns Shine at Roanoke
Forum member Greg M., (aka Coleridge), also attended the Roanoke Match: "I made it into the Open Class Shoot-Off with two separate guns (6BR and 6-6.5x47L) … only to get whipped by both of the two youngest shooters there (one with my own gun!)." Greg noted that: "the Open Class Second Place finisher was also a youngster, Blake, my 15-year-old son. It won't be long before Blake and [8-year-old] Cash are whipping us way too often. I'm just glad neither one of them was shooting in factory class!"
Course of Fire
The main match at Roanoke encompasses three yardages. All guns engage 15 clay targets: five 2.5″ clays at 330 yards, five 3.5″ clays at 425 yards, and five 4.5″ clays at 500 yards. Shooters are allowed TWENTY rounds, (no separate sighters). All rounds must be shot in one setting, with a 10-minute time limit. Shooters can shoot targets in any order.
Class Rules
In the primary clays-shooting competition, there are two (2) classes, Open and Factory. In the Open class there is a 30-lb weight limit and no rail guns are permitted. Beyond that, pretty much "anything goes". The Factory Class is more tightly controlled — this is a true factory class, no customs allowed, not even Coopers. The only upgrades allowed are bedding and trigger job/replacement.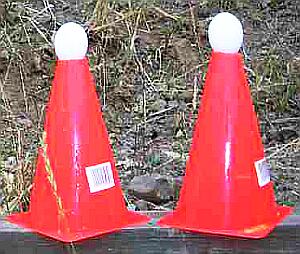 Egg Shoot Is Challenging
In addition to the main clays-shooting match, there is an actual Egg Shoot, conducted separately. For the Egg Shoot, there are no classes — competitors pick their best rifle. After a five-minute warm-up, competitors get two shots to hit one egg at 500 yards. It costs two bucks for each entry — and you can shoot until your money or ammo runs out. All competitors who hit an egg then go into a Shoot-Off for glory and cash awards. Jonathan Dunn, shooting a 6BRX, won the Egg Shoot scoring 3 of 4 hits on eggs in the Shoot-Off stage.