June 27th, 2009
The World Championship of Cowboy Action Shooting wraps up today at Founders Ranch in Edgewood, New Mexico. Today's final matches will determine the winner of the week-long event, which commenced on June 22nd. Over 400 shooters from a dozen countries competed at the 28th Annual END of TRAIL World Championship of Cowboy Action Shooting and Wild West Jubilee produced by the Single Action Shooting Society, better known as SASS.
UPDATE: Teenager Steve Rubert, aka Badlands Bud, was the Overall Champion at the 2009 END of Trail.
Along with the 400+ competitors, END of TRAIL attracts thousands of spectactors with Wild West-themed exhibits and entertainment, including mounted shooting from horseback. Visitors can sample wares from hundreds of vendors or enjoy "living history" Wild West encampments spread over 50 acres.
But shooting (and lots of it) is what END of TRAIL is really all about. Competitors shoot multiple stages, employing single-action revolvers, rifles (mostly lever-guns), and shotguns (double-barrel, 1887 lever, or 1897 pump). On most of the stages, top competitors will fire 10 pistol rounds, 4-10 shotgun rounds, and 10 rifle rounds — all in well under one minute, and usually without a miss. Competition is fierce, and the action is fast and furious.
In the video below, multi-time SASS World Champion Spencer Hoglund aka "Lead Dispencer" sets a world-record time for a stage run. Spencer's pistols and carbine are preloaded, but, per SASS rules, Spencer must handload each shotgun round. Spencer, the fastest shooter in the history of the sport, completed the stage in 12.81 seconds without a miss. He fired TEN (10) shots from his lever gun in about 4 seconds!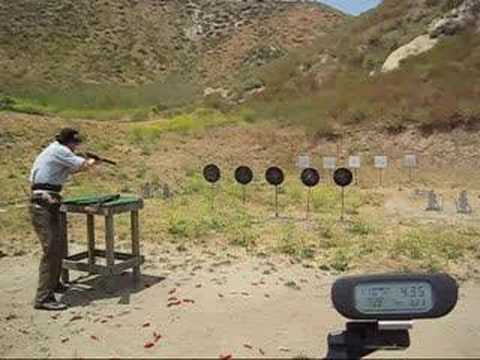 More Speed Shooting with Lead Dispencer : Move and Shoot | Helmet Cam (Shooting USA).
Share the post "Cowboy Action World Championship Concludes Today"