August 6th, 2007
The Northwest 1000-Yard Benchrest Club holds its annual Championship this upcoming weekend at the Deep Creek Range in Missoula, Montana. The Championship Match will be held on August 10th, 11th and 12th, 2007. August 10th will be a practice day. Bench positions will be drawn on Saturday and Sunday mornings. Many valuable prizes will be awarded including a BAT Action, three Nightforce scopes, and numerous custom barrels (including 4 Kriegers, 2 Lawtons, and 2 Harts).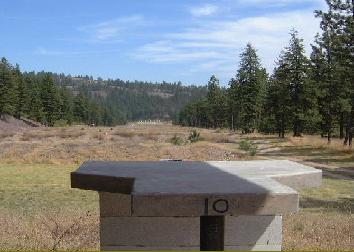 Many world records have been set at this range, including Smallest Light Gun 10-Shot Group 3.835″ by Cody Finch, and Light Gun High Score 100 (5.185″) by Barney Lawton, set just last month.
If you can spare a weekend and the travel time, this is a great event to attend, and all long-range bench shooters are welcome. The new rules instituted last year will continue, allowing 17-lb IBS and NBRSA guns in the 16 1/2 lb. and Heavy Gun Classes. This will apply to the Championship Shoot only. However, only guns 16.5 lbs (or less) will qualify for World Records under Pennsylvania Rules (The Montana Club is affiliated with Williamsport, PA). All guns will be qualified for prizes. To be eligible to compete in the Championship Shoot competitors must be members of the Northwest 1000 Yard Club and yearly dues are $30.00. Shooting fees for the Championship Shoot will be $30.00 each gun, each day. There will be a steak dinner on Saturday night for $5.00 per person. Camping spots (with electricity) are available at the club for $5.00 per night (call in advance to reserve).
For more info, Click Here, or contact Pat Capehart at 406-821-3737 or pat[at]accessmtwildblue.com. Related Article.