October 24th, 2008
In our Gun of the Week section, we've featured Gary Eliseo's innovative R5 Tubegun, chambered in 6mmBR. Gary produces an accurate, ergonomic, and affordable Kit for Cross-the-Course and High Power Shooters. Now Creedmoor Sports has introduced a new, complete rifle based on a second-generation Eliseo system. And the big news? The Creedmoor CSR-1 is designed to shoot the popular medium-sized cartridges: 6XC, 6.5×47 Lapua, 6.5 Creedmoor, and .308 Winchester. (It is also available in .223 Rem.) The new CSR-1 offers sling-shooters a complete, turn-key rifle that rivals the performance of the Tubb 2000 for less money. (The Creedmoor CSR-1 costs $3750.00 complete with adjustable butt stock, but not sights). With the capability of shooting the .308 Winchester, the CSR-1 should also be popular with Palma and even F-TR shooters (who could also shoot the gun in .223 Rem).
The CSR-1 custom match rifle is optimized for across-the-course or long-range shooting. Built around a custom Pierce Engineering action, this new rifle features a 28" Broughton 5C (canted lands) barrel, a Gary Eliseo stock, +15 MOA sight rail, a superb, 2-stage Jackson Trigger with adjustable trigger shoe plus a fully adjustable (and removable) rear stock. Friends, these are ALL top-of-the-line components. Lefties rejoice! The CSR-1 will be offered in BOTH right-handed AND left-handed versions. To allow further shooter fit adjustment, the tubular front hand guard can rotate 15° from center in either direction.
The rifle also includes two (2) custom single-stack 5 round magazines, a single-round loading device (SLED), two (2) removable butt stock 4.8 oz. weights, plus an adjustable hand stop. The adjustable buttstock is top of the line. It can adjust for length of pull, drop, cheekpiece height, and cant angle. Rifle weight (without sights) is 13.25 lbs. Estimated all-up weight (with sights) is 14.75 lbs. Creedmoor Sports also offers a recommended sight kit for $797.90. This includes: Phoenix Top Mount ¼ minute rear sight, Gehmann 510 adjustable rear iris, T2K Ladder front sight with level and extra mount, and Gehmann 2.4 – 4.4mm adjustable front iris.
Shown below is a video of Gary Eliseo shooting his R5 Repeater chambered in 6BR. The new CSR-1 will be a very similar gun, albeit with a superior Pierce action inside and a larger magazine system capable of holding up to .308-sized cartridges.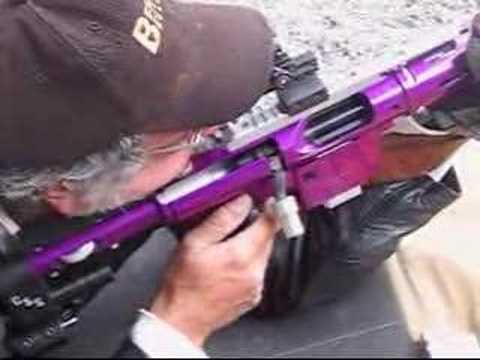 Special Offer — FREE Ammo or Kalispel Gun Case
If you purchase a CSR-1 rifle before January 9th, 2009, Creedmoor Sports will kick in one FREE case of 6.5 Creedmoor ammo (must be chambered in 6.5 Creedmoor, does not apply to other calibers) OR a free Kalispel aluminum gun case. For more info, visit CreedmoorSports.com. You can request a catalog through the website or by calling 800-273-3366.