October 31st, 2008
The 23rd Annual "World Championship of Punkin Chunkin" will be held Friday October 31st through Sunday, November 2nd, in Sussex County, Delaware. This hugely popular event draws 40,000-50,000 spectators each year. They gather to watch 100 or more amazing air cannons, catapults, trebuchets, giant slingshots, and other fantastic devices launch pumpkins into the air. In conjunction with the Punkin Chunkin Championship, there will be cooking contests, and the Charley Daniels Band will perform on the 31st. Proceeds from the annual event go to St. Jude's Children's Hospital, various other charities, and scholarships. We think the timing is perfect–this gives folks a chance to smile and laugh a little before the very serious business of next week's election. God knows we all need some relief from the relentless campaigning.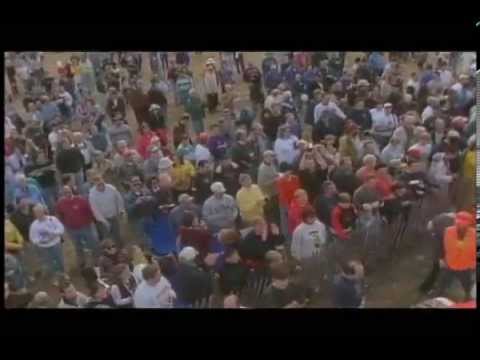 Intrigued? Want more Punkin Chunkin footage? Believe it or not, there's a full-length feature movie about the event: Flying Pumpkins: The Legend of Punkin Chunkin.
You can find complete event info, including directions, on Punkinchunkin.com. To view many of the amazing machines, visit the event's Online Photo Galleries.
One of the favored "big guns" is the aptly-named "Second Amendment". This 14-ton monster boasts a 100-foot-long barrel that can toss an appropriate projectile (e.g. a pumpkin or frozen turkey), over 5,000 feet (very nearly one mile!). Muzzle velocity is an impressive 500 miles per hour (about 733 fps). The big cannon, shown below, holds the official world punkin distance record, and is a 4-time overall winner (2002, 2003, 2005, 2006). This year the Second Amendment team hopes to reclaim the title.
Editor's Comment: Click on the links, and especially the photo galleries. Look at the hardware… and the smiling faces. Look at the families having fun together. Why, a cynic might ask, should anyone go to a "punkin chunkin" festival when they could be sitting at home worrying about the election and being miserable about the economy? Well, heck… sometimes you just have to get outside and have a grand, crazy, goofy good time. This event is one of those uniquely American celebrations of technical ingenuity and rural culture. Sort of NASCAR meets pagan harvest festival. It makes me smile, and also reminds me that shootin' stuff, whether a 22LR rifle or a 100-foot air cannon, is just darn fun… and that's why we do it.