October 18th, 2008
USPSA Multi-Gun National Championships
Taran Butler, Bruce Piatt and Jerry Miculek claimed national titles at the U.S. Practical Shooting Association (USPSA) Multi-Gun Championships held October 3-5 at the Shootout Range in Princeton, Louisiana. The match drew nearly 120 competitors from 28 states. In Multi-Gun matches, shooters tackle multiple, timed stages, using pistol, rifle and shotgun to engage a variety of paper, steel and moving targets. Matches often require competitors to use all three types of firearms on a single stage. Showcasing remarkable shooter skills (and fast reflexes), Multi-Gun (i.e. "3-Gun") matches are exciting to watch. Below is a video of USAMU team members at the 2007 USPSA Multi-Gun Nationals: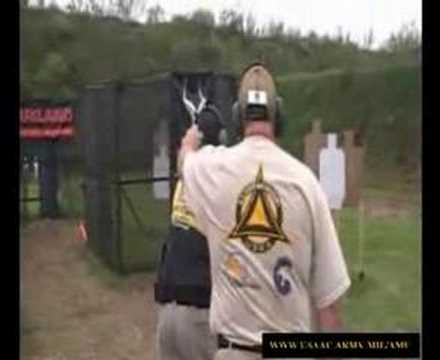 Nat'l Championship Results
In the Tactical Division, Taran Butler of Simi Valley, California dominated the match, winning five of the 12 stages and leading in overall points on eight. In the end his overall score of 1279.9417 outpaced second place shooter and fellow Golden State resident Keith Garcia of San Ramon by almost 77 points. Butler previously won the Tactical Division in 2006.
Team Smith & Wesson member Jerry Miculek, shooting on his home range, defended his 2007 win by again taking the Open Division title, this time by more than 24 points with a final score of 1278.0090. Miculek won five of the 12 stages and led the field over nine of them. Great Shooting Jerry! Chris Tilley finished second in the Open Division with a score of 1253.6155 edging out the 2006 champion Michael Voigt of Chino, California by just over two points. The Limited Division title went to Bruce Piatt of Montvale, New Jersey, who won by more than 41 points with a final score of 1302.0291. Piatt held the lead on eight stages winning three of them.
About USPSA: The United States Practical Shooting Association is a non-profit membership association and the governing body for the sport of Practical Shooting in America. USPSA has over 17,000 members and more than 350 affiliated clubs. Visit www.uspsa.org.

Similar Posts:
Share the post "USPSA Multi-Gun National Championships"