November 12th, 2008
On November 15, 2008, the Ohio National Guard and the Civilian Marksmanship Program (CMP) will host an Open House at the newly completed Camp Perry indoor shooting facility. All shooters and interested persons are welcome. You can even test your marksmanship skills on the CMP's new Olympic-style electronic targets.
The new, state-of-the-art Marksmanship Center features the Civilian Marksmanship Program's 80-firing point, 10-meter electronic target air rifle range. Visitors can participate in a free match with a chance to win a turkey, courtesy of the CMP. Every half-hour, the lucky participant who shoots the best center-shot on the 10-meter targets will take home a Thanksgiving turkey just in time for the holiday. Visitors will be treated to hot dogs and refreshments and will have an opportunity to watch Beijing Olypmics shooting videos and purchase CMP sales items.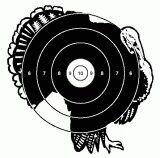 The Marksmanship Center also features the National Guard's Engagement Skills Trainer (EST), a marksmanship simulator used for both military small arms and crew-served weapons. The Ohio Army National Guard will give demonstrations of the EST and allow visitors to take part in the training, which involves interactive viewing screens (like a life-size video game). Camp Perry is located approximately five miles west of Port Clinton on Ohio State Highway 2. For more info, call (419) 635-2141 or go to www.odcmp.com and click on the OPEN HOUSE icon.