February 8th, 2009
Doan Trevor is a master gunsmith and stock-maker who works in the old style. He still hand-crafts stocks from start to finish, and does all the metal-work on the custom rifles he builds. Starting with highly-figured woods, Doan carves and shapes his stocks largely by hand, with meticulous attention to detail. Each rifle he builds is optimized for its intended discipline, and custom-fitted for the customer.
With the help of his talented wife Sue (who does the photography and builds the web pages), Doan has created a wonderful website, DoanTrevor.com, that is a feast for the eyes. You can see beautiful wood-stocked rifles being hand-crafted. Doan also illustrates how he creates custom metal parts, and how he beds barreled actions into the finished stocks.
Set aside a few minutes and visit Doan's website. Be sure to click on the site's secondary pages: Rifle Building, Woodworking, and Metalworking. You'll find dozens of high-quality photos and fascinating information on gun-building.
Doan Trevor Moving to New Mexico
California is losing yet another great "gun guy". Doan announced in his Blog yesterday that he and Sue will be moving to Albuquerque, NM. Doan explains: "Moving under any circumstances is difficult … moving an entire machine shop without heavy equipment machinery movers is an undertaking. So far we have three pods (one and a half already loaded) and will probably need a 26 ft. truck. Yesterday Ray Del Rio and Gary Eliseo's son Jeremy helped move the 3200-lb lathe. Any able bodies in Southern California are more than welcome to join the fun!" The video below shows the effort: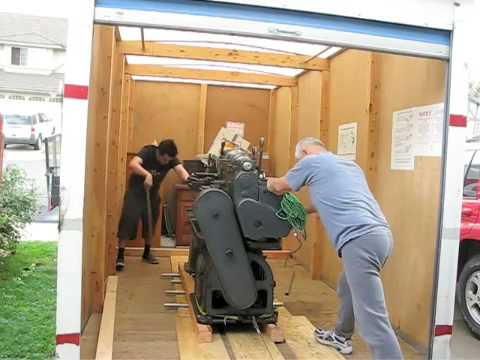 Photos © 2008-9 Sue & Doan Trevor, All Rights Reserved
Share the post "Classic Hand Craftsmanship — Doan Trevor"