September 8th, 2009
Kelly Bachand, a 22-year-old electrical engineering student at the Univ. of Washington, recently ventured to the Canadian Fullbore Rifle Championships held August 13-22 at the Connaught Ranges in Ottawa. He arrived an unknown, relatively untested in international competition. By the end of the week, every shooter in Ottawa knew this young man's name.
Kelly turned in a performance of historic proportions, out-shooting 300 other marksman to win many of the event's most prestigious matches, including the Open Target Rifle Championship with a score of 1045-105V (the "V" is the Canadian equivalent of an "X" in the USA). Kelly also won the multi-day 21st Century Aggregate (1344-140V), the Harrison Aggregate, the MacDonald Stewart Aggregate (824-80V), the Polar Bear Aggregate, and he shot on the winning USA Young Eagles team in the Under 25 international team matches.
Among the various matches at the Canadian Championships, Kelly had eight (8) first place finishes, and twenty other Top 10 finishes. As you can see at right, Kelly harvested enough trophies to fill a truck. And to top that off, just after returning from Canada, Kelly won the 2009 Northwest Int'l Prone Championship. He did that all with his new Barnard-actioned .308 Palma rifle provided by MT Guns.
Years of Preparation Lead to Success
Though he's only 22, Kelly has been shooting for over 16 years. He told us: "I began shooting when I got a Red Ryder BB gun for Christmas when I was 6. I shot air rifle in high school and enjoyed it immensely. After graduating in 2005, I joined a Washington-based high power rifle team, the Bad Apples, which went on to win National Junior team titles. I began shooting long range with a Palma rifle towards the end of 2005 and was then the high junior at Camp Perry in the Leech Cup in 2006 and the Andrus in 2007 (both times shooting a borrowed Palma rifle). While I had been high junior and placed first in my classification a number of times, it was not until the weekend before the Canadian Championships that I earned my first overall match win — in a small local event with no more than 20 shooters. This match was, however, a huge success for me mentally; I did not crumble under pressure on my last string at 600 yards and ended the match with a perfect score, not dropping a single point."
Special Challenge of Pair Shooting in Canada
Kelly reports: "The biggest differences about shooting in Canada are the 5-point V centered targets which are black and white (not buff) and the fact that shooting is done in pairs. I had been to the range in Connaught before in 2007 as a firing member of the World Champion Under 21 USA Young Eagles. The range there is beautiful and studded with flags between the firing line and the target bay. Unfortunately the flags were brand new this year and were unresponsive to wind for the first few days of shooting. It was sunny, cloudy, there was thunder, and there was rain so thick that the targets literally disappeared and shooting had to be paused. I had to be ready for anything.
After a few days of shooting I noticed my name was towards the top in a few Aggregates, but I focused my energy to avoid thinking about anything more than the next shot I needed to take. At one point I shot a perfect score but with a very low V count, and a friend asked me about it, I jokingly replied "it doesn't matter how many Vs I shoot if I keep shooting cleans." And that's how I steadily moved up after each day of shooting. Beginning the final day in first place, I was paired with the second place Canadian shooter, who was just a point behind me, for the final 15 shots at 900m. I have never felt more pressure than when I was shooting side by side with my competition. Each shot I knew what I needed to do. Throughout the entire 15-shot string, that knowledge increased my heart rate but also my desire to win."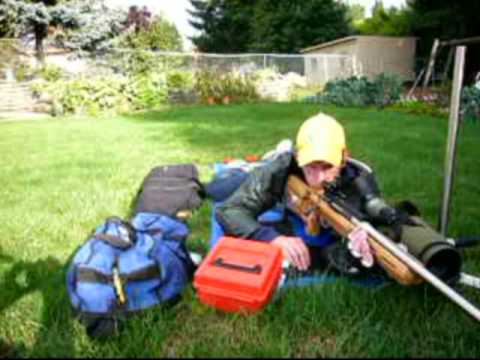 MT Guns Provides Winning Match Rifle
As a "starving student", a new Palma rifle was out of reach financially for Kelly … until MT Guns came to the rescue. Kelly explains: "When I was no longer able to borrow the match rifle I had used as a junior, I needed a new gun. As a college student paying for school with a part-time job, I couldn't afford a competitive Palma rifle. Seeking sponsorship, I contacted Mac Tilton of MT Guns and asked if he could help me out. Mac generously offered to provide me with a complete rifle, and his crew at MT Guns produced an absolute tack-driver. My new MT Guns .308 Palma rifle features a Barnard 3-lug action, 32" True-Flight barrel, a Mastin Anschütz-style stock, Warner rear sight, and Riles 22mm front sight. This rifle fits me well and is a pleasure to shoot. The gun groups better than any other rifle I have shot. My load is 46+ grains of Varget pushing Sierra 155gr #2156 MKs with CCI BR-2 primers in Lapua brass. I have shot this load exclusively in every competition whether it was a Palma match or an any/iron match." Interestingly, Kellly shot the entire Canadian Championship without cleaning his New Zealand-made True-Flite barrel. According to Kelly, he put "nothing but bullets through the barrel in Canada — well over 300 rounds including sighters and team matches".