April 19th, 2010
Darrell Jones Offers Annealing and Ultrasonic Cleaning Service
We talked recently with our friend Darrell Jones, a talented benchrest shooter from Tennessee, who operates a brass processing business, DJ's Brass Restoration Service. Darrell ultrasonically cleans old cartridge brass then carefully anneals each case, using temp-sensitive lacquers to ensure the brass is neither over-annealed or under-annealed. As far as we know, DJ's Brass Restoration Service is the ONLY business in the country offering combined ultrasonic cleaning and annealing. And now Darrell can process your brass with even great efficiency.
Darrell told us he has just received his new, automated dual-torch, carousel annealing machine from Bench-Source. This microprocessor-controlled unit may be the most advanced bench-top annealing machine ever created. Two torches are used to provide intersecting flames for uniform heating. The micro-processor precisely controls the heating time, and a special motor spins each case around its axis while in the heating position. This ensures that the neck and shoulder are annealed evenly.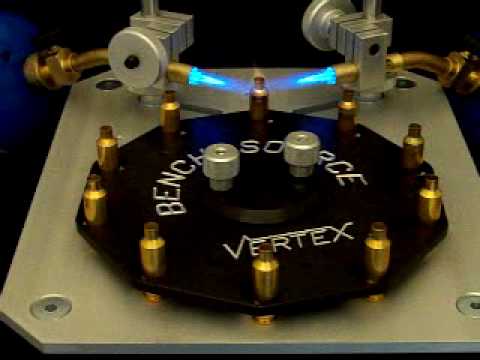 Combined Ultrasonic Cleaning and Case Annealing
If you have "tired" brass with inconsistent neck tension from case to case, give Darrell a call. His cleaning/annealing process will extend the useful life of your brass, and his service is quite affordable. Darrell's Basic Service starts at $20.00 per hundred cases — and that includes ultrasonic cleaning AND annealing. (Flat rate USPS shipping is extra.) Note: very large cases (such as the .338 Lapua) or damaged, dented cases may cost more.
In addition to the Basic Service, Darrell offers a 4-Step Full Service starting at $25.00 per hundred cases (plus shipping). Darrell's Full Service brass restoration includes: Uniforming primer pockets; Chamfering Case Mouths; Ultra Cleaning and polishing; Annealing case necks.
Ultrasonic Muzzle Brake Cleaning
In addition to cleaning and annealing cartridge brass, Darrell offers Ultrasonic Cleaning for muzzle brakes. This removes carbon buildup to restore critical bullet clearance requirements. The price is $15.00 per brake (plus shipping).
For more information, visit DJsBrass.com, or call Darrell at (901) 826-1503. IMPORTANT: Contact Darrell for shipping instructions BEFORE sending any brass for processing. ALL BRASS MUST BE DE-PRIMED before you send it.

Similar Posts:
Share the post "Darrell Jones Offers Annealing and Ultrasonic Cleaning Service"
Tags: Annealing, Cartridge Brass, DJ's, Ultrasonic