July 19th, 2010
Build Your Own Portable Shooting Bench — Step-By-Step Video
Are you looking for a stable and affordable shooting bench for your next varmint safari? Well, why not build your own? Clemdog, a talented wood-worker and avid varmint-hunter, has designed a sturdy, portable bench you can build for $75.00 in materials. The bench is made from plywood attached to Rugged Buddy sawhorse legs which fold open and engage securely with patented snap-locks. These tubular steel legs cost about $60.00 per set. Clemdog's bench can also be built with banquet table legs. These are cheaper, but heavier (and some extra assembly work is required).
Clemdog Shows How to Build Your Own Bench
Clemdog has created a nice video that shows, step-by-step, how to build his portable shooting bench. Clemdog writes: "I am amazed at the number of shooting tables on the market today. I've seen them in catalogs at prices ranging from $75 to almost $500. While I'm sure it's a pleasure to shoot from one of the high-end benches, I wouldn't want to drop the cash on one, nor would I want to assemble and disassemble one each time I repositioned. The vast majority of the lower-end tables or benches are so rickety that it would be difficult to shoot accurately from them. If you have a saw and a drill, or can borrow one, here's how you can make your own portable shooting and reloading bench for [about $75.00]." Just watch the video below: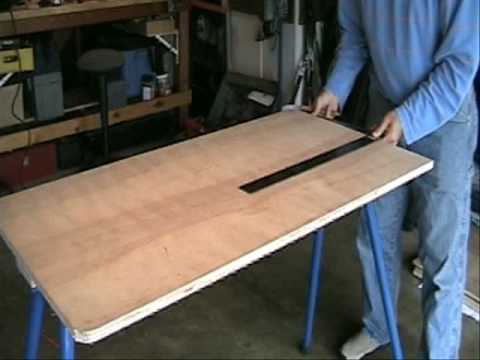 Instructions for Table Fabrication
Clemdog says: "Start with a 3/4″ plywood panel, available at Home Depot or other lumber yards for about $15. Pay a few bucks more for a birch or other nice veneer, it will look fantastic if you varnish the table. The panels come 48″ x 24″. You will also need some wood glue, and about 15 #10 wood screws, about 1-1/4″ long. Check out my video on how to build the bench using a set of folding Rugged Buddy 34″ sawhorse legs. If you opt for standard banquet table legs, you will need about 20″ of scrap 2×4 and four to six 3″ lag bolts with washers and nuts to bolt the 2x4s to the table top."
At the end of his video, Clemdog offers some sound advice: "Don't buy a crappy bench, or spend hundreds of dollars on a bench. Build your own. It will be a fun project and it will last you for years." For more info, visit Clemdog's personal webpage, which also hosts a series of reloading videos.

Similar Posts:
Share the post "Build Your Own Portable Shooting Bench — Step-By-Step Video"
Tags: do it yourself, folding table, plywood, sawhorse, Shooting Bench, varmint hunting