May 24th, 2011
International Revolver Championship June 2-5 in California
Many of the world's best wheelgunners will be in California the first week in June. The 20th Annual Smith & Wesson Int'l Revolver Championship (IRC) takes place June 2-5 at the Hogue Action Pistol Range in San Luis Obispo, CA. This is the 12th consecutive season that San Luis Obispo Sportsmen's Assn. hosts the IRC, the highlight of the ICORE revolver shooting season. Nearly 200 ace revolver shooters, from the USA as well as 6 foreign countries, are expected to compete. According to Ron Joslin, IRC match director: "This is the highlight of our competition season. It's where everybody in ICORE comes together to determine who is the best. This is our Superbowl, and it's been that way for [two decades] now."
The man to beat in Open Class will be legendary pistolero Jerry Miculek of Team Smith & Wesson. Jerry has won every IRC in which he has competed. When it comes to wheelguns, Miculek is the fastest man on the planet. Also competing will be past Ladies Open Division winner Julie Golob, and past Limited Division Champion John Bagakis.
Along with the adult classifications, the IRC features divisions for Junior shooters. The junior events are always crowd-pleasers. Some of these youngsters are definitely future champions in the making. The video below shows the 2009 IRC Junior Shoot-Off for the overall Junior Title.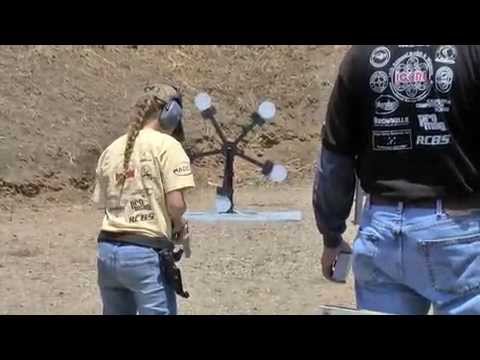 Similar Posts:
Share the post "International Revolver Championship June 2-5 in California"
Tags: ICORE, Jerry Miculek, Revolver, San Luis Obispo, Smith Wesson