December 3rd, 2012
Forster 3-in-1 Case Trimming Tool
We are organizing our crew for the 2013 SHOT Show, which runs January 15-18 in Las Vegas, at the Sands Expo Center. To whet your appetite, here is a product report from SHOT Show 2010 that you may have missed the first time around. In this video Robert Ruch, CFO of Forster Products, shows off the Forster's 3-in-1 Case Trimming Tool. This is a very smart tool that can dramatically speed up your case prep operations.
Tool Cuts Brass to Length, and Chamfers Inside and Outside
Forster's new 3-in-1 Carbide cutting tool works with all existing Forster case trimmers. This unit does three jobs at the same time. It trims the case to length, it puts a 14-degree chamfer on the INSIDE of the neck, AND (last but not least), it cuts a 30-degree chamfer on the OUTSIDE of the neck. It does this all quickly and efficiently — in a matter of a few seconds. We tested the new tool ourselves on a few cases. The tool is solid and well made. The carbide cutting tips do perform a very clean cut. Be aware, however, if you have turned your necks already, you may have to reset the blade positions before you start trimming your brass.
Forster's CFO, Robert Ruch, demonstrates the 3-in-1 case trimming/chamfering tool in the video below. As you can see, the tool turns very smoothly (no chatter) and the job is finished in a few seconds. The actual cutting time, per case, is just a few second. The tool has an MSRP of $70.00, but we expect it to sell for around $50.00 at major vendors. It can be fitted on Forster trimmers and other hand lathes with a .490″ shaft diameter.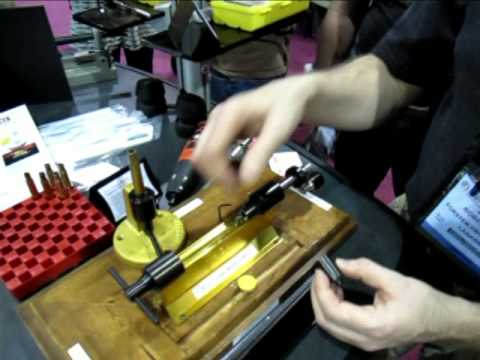 John Whidden Demonstrates Forster Co-Ax Press and Trimmer
In this promo video, produced for the Outdoor Adventure 'What-the-Stuff' TV show, John Whidden of Whidden Gunsworks, talks about the benefits of precision case trimming and demonstrates how to use the unique Forster Co-Ax Press.
Similar Posts:
Share the post "Forster 3-in-1 Case Trimming Tool"
Tags: Brass, Case Trimmer, Chamfer, Forster Products, Robert Ruch, Trimmer