January 28th, 2014
2014 QuickLOAD Data Update CD Now Available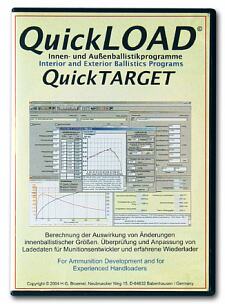 Got QuickLOAD software? Then it's time to upgrade your data files. The makers of QuickLOAD have released a new CD with updated data files (for propellants and projectiles). Updated just before SHOT Show, the new CD is current as of January 12, 2014. This data update disk adds the latest available powder, cartridge, and bullet files to your current version of QuickLOAD/QuickTARGET. This disk will work for QuickLOAD versions 3.0, 3.1, 3.2, 3.3, 3.4, 3.5, 3.6 and early 3.8.
Price for the update disk is $15.95. In the North America, order from Neconos.com, or call 800-451-3550 (9 am to 5 pm Pacific Time). In the United Kingdom, you can get the update disk from JMS Arms, Merrivale, London Road, Handcross, West Sussex, RH17 6BA, England, Phone: 01444 400126.
QuickLOAD is a pretty amazing program. Using information for over 1200 cartridges, 250 powders, and 2500 bullet types, QuickLOAD allows you to predict velocities and pressures for your hand-loaded ammo. You can check predicted pressures with different powder choices and seating depths before loading an actual round. If you do not yet own QuickLOAD, you can now order the latest Version 3.8 of this unique software. Priced at $152.95, the latest version 3.8 contains all the updates through January 12, 2014. This can be purchased for $152.95 from Neconos.com. For a full explanation of the features and benefits of QuickLOAD software, click the link below.
READ Full QuickLOAD Software Review
Product tip from EdLongrange. We welcome reader submissions.
Similar Posts:
Share the post "2014 QuickLOAD Data Update CD Now Available"
Tags: Hartmut Broemel, Neconos.com, QuickLoad, QuickTarget