January 20th, 2012
SHOT Show: Tips on Using QuickLOAD Reloading Software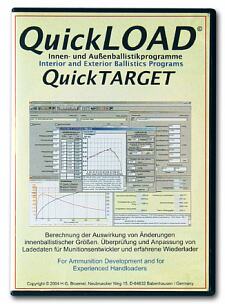 At SHOT Show, we had the chance to meet with German software engineer Hartmut Broemel, creator of QuickLOAD software. This software program, while not a substitute for conventional load manuals, allows shooters to evaluate a wide range of powders and bullets, comparing potential loads on the basis of predicted pressures, velocities, load density and projectile in-barrel time.
CLICK HERE for Full QuickLOAD Review
We took the opportunity, in the video below, to explain some of the fine points of QuickLOAD for our members. QuickLOAD, sold by Neconos.com, helps reloaders understand how changing variables can affect pressures and velocities. It can predict the effect of changes in ambient temperature, bullet seating depth, and barrel length.
In the video below we explain how to adjust the program for true case capacity, bullet seating into the lands, and other important factors. If you are a new QuickLOAD user, or are contemplating buying the $152.95 program, you should watch the video. The program isn't perfect, but it can accelerate the load development process, and it can save you money by narrowing down the list of appropriate powders for your cartridge.
No other product currently available to serious reloaders offers as much predictive power as QuickLOAD, and you'll find your money well spent just for the vast collection of data on bullets and cartridges. With a couple mouse-clicks you can instantly get the specifications of hundreds of bullets and cartridges. Likewise, in a matter of seconds, you can compare load density for a half-dozen powders, or compare the projected velocities of one cartridge versus another.
Similar Posts:
Share the post "SHOT Show: Tips on Using QuickLOAD Reloading Software"
Tags: ballistics, Cartridge, Hartmut Broemel, Neconos.com, Powder, QuickLoad, Reloading Manual