May 26th, 2019
Editor: This story by Tommy C. (aka "dc.fireman") comes from our Shooters' Forum. It's fascinating to see how a relatively inexpensive Savage M12 BVSS varmint rig was transformed into a sophisticated 300M match rifle with a modern chassis, Shilen barrel, and top-of-line sights. With some ingenuity, and careful parts selection, Tommy created a rifle that can compete with match rifles costing many thousands of dollars more. American ingenuity at work!
Savage Reborn — Old BVSS Transformed into 300M Match Rifle
by Tommy C. (aka "dc.fireman")
So, I began the project of building a 300M International competition gun, about a year ago, intending to compete at the 300M Nationals this year in Minnesota at the Minneapolis Rifle Club. Realistically, I didn't want to pay the price-tag demanded of the Bleikers, Grunig & Elmigers, Hammerlis, or Tanners that (infrequently) pop-up for sale from time to time. So I decided to build my own 300M Match rifle with an American action, barrel, chassis, and trigger.

Here is Tommy's completed 300M Match rifle with Savage action in PDC Custom chassis.
I had decided on the .260 Remington (aka 6.5-08) as the caliber choice. This beat out 6.5×47 Lapua simply due to the cost/availability of brass. The .260 Rem cartridge is based on the .308 Win parent. I made my first batch of brass by necking down some Federal .308, and it worked great. [Editor: We do recommend Lapua .260 Remington brass for match purposes for those who don't have a supply of good .308 brass.]
I had an older Savage M12 stagger-feed action, originally from an old .22-250 BVSS. I contacted James at Northland Shooter Supply, and he walked me through the game plan and equipment I needed: Shilen Select Match 26″ barrel, NSS Stainless recoil lug and nut, a set of Forster headspace gauges, and the NSS action wrench.

Catalog photo of current Savage M12 BVSS in .22-250 Rem.
A few months later, I replaced the original Accu-trigger with a Rifle Basix SAV-II trigger, and immediately wondered why I waited so long to do that. The Rifle Basix is perfect for my application. Mind you the he safety DOES NOT work now, but, I don't need it for my application.
Another member on the AccurateShooter Forum sold me a BVSS stock that has been re-worked by Alex Sitman of Masterclass Stocks, and it served as a placeholder, until I could find a maker who could nearly replicate my Feinwerkbau 2700 Alu stock in my smallbore match gun.
After scouring the AccurateShooter Forum, and multiple internet searches, I found PDC Custom in Michigan. I spoke with Craig Kierstadt a few times, before finally deciding to pull the proverbial trigger on his chassis. He had a few of the older chassis stocks with spacing for the Savage stagger-feed action. He machined an Anschutz rail into the fore-end for my hand stop and sling. Then he powder-coated the chassis black, and sent it to me sans grip and butt plate.

Photo of action/chassis. Tommy says: "It locks up really tightly, and you can tell Craig spent some time on the CNC work need to make this all fit."
There are a few minor issues with the PDC chassis, but overall, I would rate this a 9.5 out of a possible 10. The price, and the features built into it, plus the ease of which everything fit together, far outweigh any minor issues. And two of the issues I quickly corrected with Teflon tape. I will need to make a walnut cheek piece — a curved one isn't conducive to aperture iron sight shooting.
Savage Action .260 Rem 300M Match Rifle Components:
Action, Barrel, Stock, Grip
Savage M12 stagger-feed action, 4.27″ spacing
Shilen Select Match Barrel, 26″
Rifle Basix SAV-II Trigger
PDC Custom Chassis — tool-less adjustments
Bobsled SLED for single loading (required)
MEC Contact III Butt plate (German)
MEC handstop/sling swivel (German)
Walnut Target grip for AR-15 (eBay sourced)

Sight Components and Hardware
MEC Spy Long rear sight (German)
Centra front sight tunnel (German)
Centra adjustable aperture (German)
Medesha sight extension tube + collar
Champion's Choice front sight base
Champion's Choice mirage band
For his practice load, Tommy shot 123gr Hornady ELD-M bullets with H4831 powder and CCI BR2 primers. This load performed well — Tommy posted: "My 25-shot initial prone test today shows promise. There are five sighter shots, and 20 record shots. One of the 9s at 9 o'clock is my first sighter, the other one I own. The 8 out at 4 O'clock was a round that was difficult to chamber. My initial scoring puts me somewhere in the vicinity of 193-7X."
The target used is the NRA C2, "300M International Rifle Target, reduced for 200 yards".
The 10 Ring is 2.40″ in diameter, while the Inner 10 (X-Ring) is 1.24″.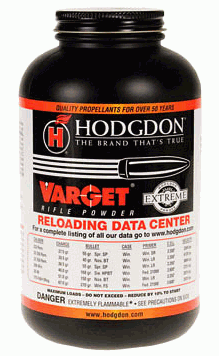 Match Load — Varget and Nosler Bullets
For his match load, Tommy switched to Varget and Nosler bullets: "My match load uses 37.9 grains Hodgdon Varget with a Nosler 123gr bullet. This was a recommendation by a gentleman with a lot of experience in 300M shooting."
Tommy adds: "The amount of knowledge gained via the AccurateShooter Forum has made this all a reality, instead of just a passing thought."