June 6th, 2010
Zeiss 85mm Victory DiaScope T* FL Wins Major Design Awards
The new Zeiss Victory DiaScope 85 T* FL Spotting Scope has earned two prestigious awards. First the new 85mm DiaScope won the coveted Red Dot Design Award. "All products honored with the red dot design award had to impress an international jury. These products [must] demonstrate their quality in one of the toughest design competitions in the world," says Professor Dr. Peter Zec, speaking on behalf of Design Zentrum Nordrhein Westfalen which issues the Red Dot Design Awards.
Outdoor Life Magazine. Outdoor Life's editors praised its "optically superior [flourite] glass in a surprisingly lightweight chassis". The ZEISS DiaScope won the low-light test, had a top resolution score and "the two-speed focus and wide-angle eyepiece sparkled", according to the test team.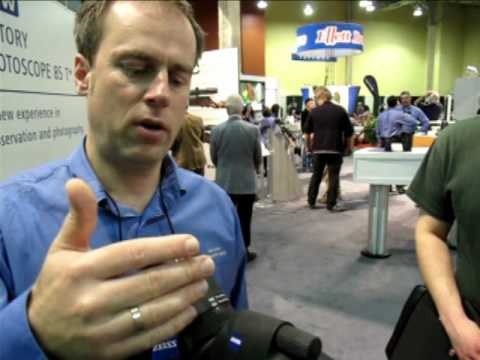 We checked out the new 85mm DiaScope at SHOT Show and reviewed its new features with Zeiss project engineer Stephan Albrecht. Make no mistake about it. This is an outstanding spotting scope. We loved the dual-rate focus system. You can do the gross focus really fast, but still achieve the ultra-precise focus needed to resolve bullet holes at long ranges. We were very impressed with the new higher-magnification 20-75X zoom eyepiece. This is one of the best variable-power eyepieces ever made, and long-range shooters can definitely use the extra magnification (75x vs. 60x). Overall the Zeiss system is surprisingly compact, yet it offers excellent low-light performance, plus higher magnification than most other spotting scopes in the 80mm category.
The new 85mm Diascope is available in straight or angled bodies both boasting a rubber-armored exterior for protection. Eyepieces are available as variable 20-60x, 20-75x, or fixed 40x. A 65mm version of the new Diascope is also available, but we feel that, if you're going to spend this kind of money ($3000.00 for 85mm with 20-60X eyepiece), you should go with the 85mm. The 20-75X eyepiece only delivers 15-56X when used with the smaller 65mm Diascope.

Similar Posts:
Share the post "Zeiss 85mm Victory DiaScope T* FL Wins Major Design Awards"
Tags: Fluorite, Lens, Spotter, Spotting Scope, Zeiss