January 8th, 2008
Conventional, non-bushing full-length sizing dies can create exceptionally accurate ammo with very low run-out. For some applications, we actually prefer a non-bushing FL die over a bushing die — so long as the neck tension is correct. But many FL dies have an undersized neck diameter so you end up with excess neck tension, and you work the brass excessivly. Forster offers a simple, inexpensive solution — honing the neck diameter to whatever size you want.
If you purchase a Forster non-bushing, full-length sizing die, Forster will hone the neck dimension to your specs for just $10.00 extra. This way you can have a FL die that provides the optimal amount of tension for your particular load. Forster dies are relatively inexpensive so you can afford to have a couple of FL dies with necks honed to different dimensions — such as 0.266″ and 0.267″ for a no-turn 6mmBR.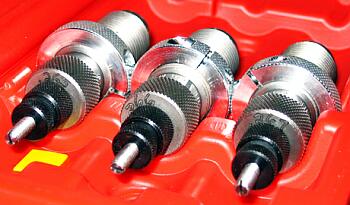 Forster FL dies, necks honed to .265″, .266″, and .267″.
Steve Rasmussen of IowaHighPower.com gave this a try. In fact, he had three dies made — each with a different neck dimension. Here's his report: "My original Forster 6BR FL die sized the necks down a lot, less than 0.260″, .256″ if I recall correctly. I sent my die in and asked if they could supply two more FL dies (for three total) to have the necks honed to 0.265″, 0.266″, and 0.267″. The cost was $10 for my supplied die and $38.50 plus $10.00 for each additional die. Return shipping was $11.00 via USPS Priority Mail.
The table below shows the neck diameter range of 10 sized cases using each die. Brass springback after sizing is running 1 to 1.3 thousandths. My loaded rounds are running 0.2697-0.2699 using Lapua I bought last year. So far the dies are working well. I sized 80 cases with the 0.266″ necked die. The shoulder is running 0.4582″ and 0.300″ up from the base is 0.4684". I spun 20 of 'em and 16 had a runout of one thousandth (0.001) and the other 4 at 1.5 thousandths (0.0015)."
| | | | |
| --- | --- | --- | --- |
| Die Diameter | Sized Brass | Springback | Neck Tension |
| 0.267 Die | 0.2683-0.2684 | 0.0013 | 0.0014 |
| 0.266 Die | 0.2672-0.2674 | 0.0013 | 0.0025 |
| 0.265 Die | 0.2659-0.2660 | 0.0010 | 0.0039 |
Share the post "Customize Full-Length Sizing Die Necks for $10.00"