May 20th, 2009
"Shooters Ready? Commence Fire!". This morning the nation's top "point-blank" Benchrest shooters heard those commands as Kelbly's Super Shoot kicked off. The Firearm Industry Super Shoot (FISS), the largest short-range benchrest match in North America, runs for four days, May 20-23, 2009 at the Kelbly range in North Lawrence, Ohio. This is a LV/HV match only. Here's the shooting schedule: May 20 10.5-lb 100 yards; May 21 13.5-lb 100 yards; May 22 13.5-lb 200 yards; May 23 10.5-lb 200 yards. For more information, call (330) 683-4674 or click this Map to Range.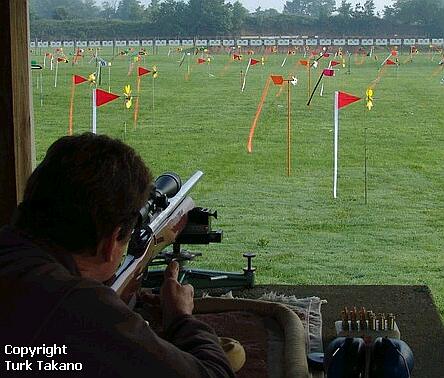 Hall of Famers Share Super Shoot Strategies
A while back we surveyed a number of top benchrest shooters, asking them for their advice on "How to Succeed at the Super Shoot." CLICK HERE to read what Jim Borden, Wayne Campbell, Mickey Coleman, Allie Euber, Speedy Gonzalez, and Bart Sauter have to say.
READ Interviews with Top Benchrest Shooters
Famed bullet-maker Sauter (photo below) offered this advice for newcomers to the Super Shoot: "Go ahead and sign up for the cash option! A lot of new shooters don't do it. A new shooter will often shoot several small groups, because they've worked hard on tuning their rifle. And one really small group could pay for their whole trip. I know a few shooters personally who did not sign up and lost some money."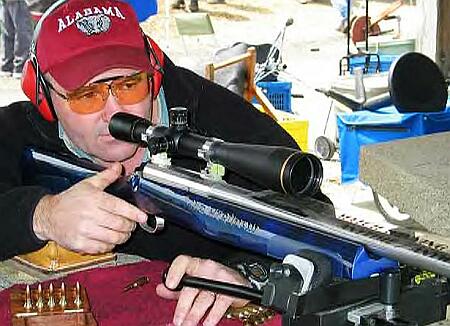 To do well at Super Shoot, Bart added: "It helps to get shots downrange quickly. I can usually send five in 15 seconds, and sometimes 12 seconds. That helps beat the conditions." Good brass is very important: "Most of the better shooters will have a new set of brass for the match. The guys that shoot the same 100 pieces all year don't normally win. I'll use practice brass for tuning. The brass I take to a major match will have just 2-3 firings on it. You can't win with brass that is less than optimal".