December 23rd, 2009
Tim Burke, USA's Top Biathlete, Leads World Cup
At the current Biathlon World Cup event in Slovenia, American Tim Burke earned the yellow bib signifying that he is the current leader in the Biathlon World Cup. This is the first time an American has EVER been the overall leader in this prestigious Biathlon series. Tim now ranks among the elite biathletes who could win Gold at the upcoming Vanouver Olympic games. Tim Burke is a remarkable athlete who has overcome serious medical issues: "It wasn't at all an easy way for me. But I think those down times were important as well for taking step by step forward to where I am now. I had a major hip surgery in 2002 and I wasn't sure if I would continue to be a biathlete after that and [mononucleosis] took me out the whole 2004 season."
CLICK HERE to learn more about the U.S. Biathlon team at biathlon.teamusa.org
Before Slovenia, Tim Burke made history twice at the previous World Cup event in Ostersund, Sweden. His silver medal performance in the 20km Individual competition tied the best World Cup finish ever for a U.S. Biathlete and Tim followed that performance by capturing the bronze medal in the Men's 10km sprint event. Burke's bronze medal marked the first time a U.S. Biathlete has ever reached the podium in the sprint competition — and the first time that Americans have won silver and bronze medals in the same competition.
In the major World Cup competition leading up to the 2010 Winter Olympics in Vancouver, British Columbia, Team USA has gained world attention. The U.S. Biathlon team has been called the most improved team in the world by Olympic and Biathlon experts. Michael Dixon, Eurosport TV Biathlon Commentator, reports: "The United States Biathlon Team is the most improved in the world. It won't be long before a moment of brilliance brings them to the podium for their first Olympic medal." The YouTube slideshow below shows the USA Biathlon Team in action. NOTE: If you're at work, you may want to turn down the speaker volume before playback.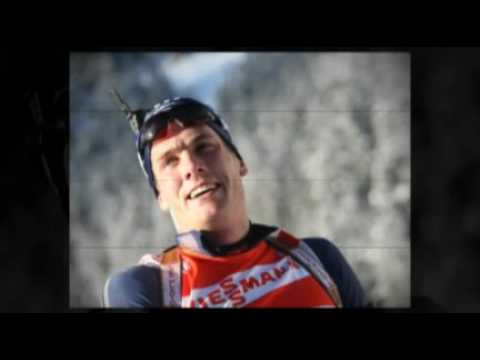 "Biathlon is a sport that captivates and fascinates nearly all who see it", commented Max Cobb, Executive Director of the U.S. Biathlon Association. "The world-class Biathlete attempts to combine the physically demanding sport of cross-country skiing with the intense precision of rifle marksmanship. The opposing disciplines collide with unique drama at the shooting range. With hearts pounding nearly three times a second, athletes struggle to control their breathing as they attempt to hold their rifles steady and squeeze off a successful shot, knowing that each shot, and the number of seconds it takes to make it, will determine who stands on the podium."

Similar Posts:
Share the post "Tim Burke, USA's Top Biathlete, Leads World Cup"