January 31st, 2010
On Media Day, just prior to SHOT Show 2010, our Assistant Editor Jason Baney headed straight to the biggest, baddest rifles he could find — a pair of serious-looking tactical rigs from Barrett Rifles. First off was the mighty semi-auto Barrett 82A1, chambered in .416 Barrett. a "beast of a cartridge" according to Jason. The .416 is a very powerful chambering, and you can see the recoil pushed Jason pretty hard. That's serious energy — Jason's a big boy, and the Barrett 82A1 weighs nearly 31 pounds. Want one? You may have to liquidate some investments. MSRP on the Barrett 82A1 is a whopping $9345.00.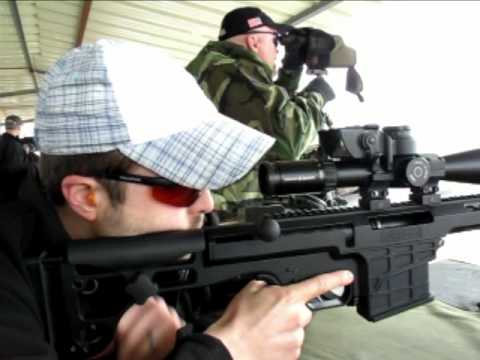 Ninety-Eight Bravo in .338 Lapua Magnum
Next up was Barrett's bolt-action model 98B ("Ninety-Eight Bravo"), chambered in .338 Lapua Magnum. At less than half the weight of the Barrett 82A1, the 98B was much easier to steer on the bench and the ergonomics were generally better according to Jason.
While recoil from the .338 Lapua Mag was stout, you can see in the video that the .338 LM kicked much less than the .416 Barrett, even in a gun with less than half the mass. The 98B gives you a good solid thump to the shoulder when firing. By contrast, the .416 Barrett in the 82A1 shakes your whole body. The 98B weighs 12.4-13.5 pounds (depending on configuration) and starts at $5039.99 without optics. Speaking of optics, the hooded display on top of the 98B is a Barrett Optical Ranging System (BORS). This $1500.00 gadget provides a digital read-out of your actual ballistics settings. It doesn't control windage and elevation — that is still done manually with the scope knobs. BORS is an integrated electronic ballistic computer that mounts directly on the riflescope and couples to the elevation knob. Just turn the elevation knob until the LCD displays the target's actual range (which must be pre-determined). The BORS' three internal sensors automatically calculate a ballistic solution, compensating for up/down angle, temperature, and barometric pressure changes. It even tells you if the rifle is canted. It's a handy device that eliminates the possibility that you loose track of your turret settings.