January 26th, 2010
Though the use of high-tech materials, such as carbon fiber and kevlar, modern riflestocks have become stiffer, stronger, and lighter. Wild Dog, a small company in Queensland, Australia, is producing some of the nicest carbon-reinforced hunting and tactical stocks you can buy. Wild Dog stocks sport innovative features, such as a trap door for ammo storage in the side of the buttstock. Wild Dog's hunting stocks are sized right and comfortable to hold — the comb height and drop angles are "just right" for a classic sporter.
And when Wild Dog says they can build a stock that's "ultra-light", they aren't kidding. Wild Dog's Bruce Simms showed us a lightweight sporter stock that weighed just 20 ounces! We were sufficiently impressed that we may choose a Wild Dog stock for an ultra-light, walk-around varminter project AccurateShooter.com has in the works.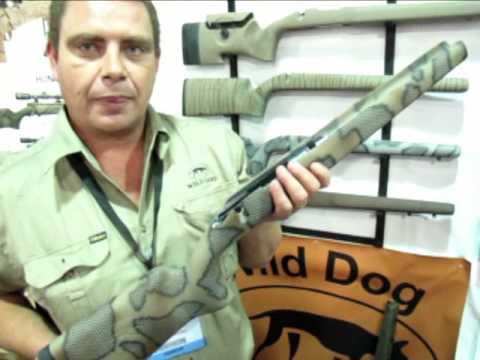 This Editor was also very impressed by Wild Dog's tactical stocks. The Wild Dog thumbhole will work for shooters with any hand size. The grip section of some other thumbhole stocks (notably the Accuracy Int'l) is very thick and fat (way too fat for this Editor's hands). By contrast, you'll find the Wild Dog thumbhole is comfortable and controllable even for shooters with medium to small hands. Wild Dog's adjustable cheekpiece system on the tactical stocks is better than most — the hardware is simple but sturdy and the cheekpiece fits flush when retracted.
Overall, the Wild Dog stock designs — both hunting and tactical, are carefully crafted and very well thought out. The tactical stocks feel right in both offhand and prone positions. The hunting stocks are easy to handle and the hand-painted camo finishes really do work in the field, as you can see in the photo below.