January 26th, 2010
SHOT Show Report: Schmidt & Bender 12.5-50x56mm Finally Available in USA
It's big, it's bright, and yes, it's finally here in America. We're talking about the Schmidt & Bender 12.5-50x56mm PM II/P scope, perhaps the most impressive long-range riflescope we saw at SHOT Show 2010. We first profiled this scope in April 2007, so it's been a very long wait, but reasonable quantities of the big 12.5-50X PM II have finally reached American shores in reasonable quantities. The suggested retail price is a jaw-dropping $3199.00, but when you consider the whole package — clarity, sharpness, image contrast, color fidelity, click options, reticle options, ruggedness, and warranty policy — the S&B 12.5-50×56, has few, if any, rivals among ultra-high magnification scopes. This is a great scope, make no mistake about it, even if does cost as much as a custom-built rifle. Jason and I both agreed that, if there was one item we'd like to carry home from SHOT Show and mount on our rifles, it would be the S&B 12.5-50x56mm. This scope is as bright at 50X as other quality scopes at 40X.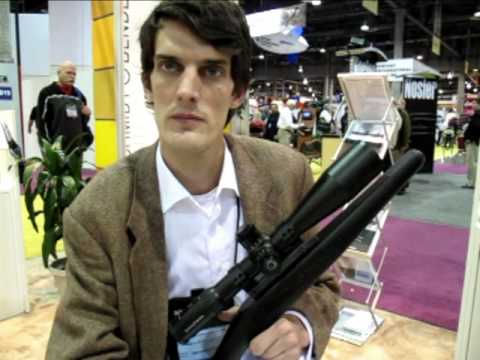 The 12.5-50x56mm is is available with 1/4 MOA clicks, 1/8 MOA clicks, or mil-based clicks, and with normal or double-turn turrets. NOTE: S&B also sells a 12.5-50×56 version optimized for 10m-70m Field Target shooting. It has a silver finish and "Big Wheel" side parallax control.
CLICK HERE for Schmidt & Bender 12.5-50×56 Rifle Specifications.
New Features on 5-25x56mm PM II
In addition to the 12.5-50x56mm long-range scope, Schmidt's engineers showed us the popular 5-25x56mm PM II sporting a new "desert tan" ceramic coating. (CLICK HERE for large photo.) For 2010, this scope features new turret options that provide extra feedback and security for the shooter. First, either or both turrets can be locked in place by pushing down on the turret sleeve. Just pull up to unlock. Second, a pop-up cap confirms when the elevation knob is on the second revolution. That makes easier to use the scope at night. Finally, every 10th click of knob rotation is a heavy, tactile "clunk". This does help track your revs and is especially useful with mil/cm-based turrets. S&B offers a wide selection of reticles, and you can choose between either first focal plane (FFP) or second focal plane (SFP) options.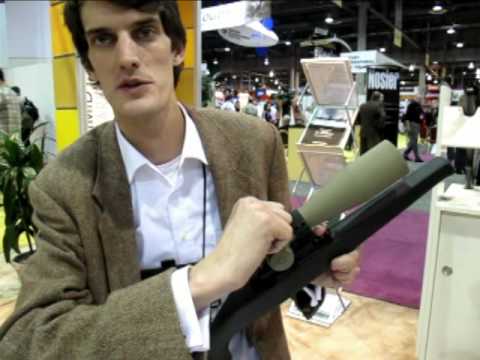 Similar Posts:
Share the post "SHOT Show Report: Schmidt & Bender 12.5-50x56mm Finally Available in USA"
Tags: Germany, Low Dispersion, Optics, Schmidt Bender, Scope, SHOT Show