January 25th, 2010
At SHOT Show, Sightron rolled out its much-awaited 10-50x60mm, and it looks good. Currently available in either a Fine-Cross-Hair (FCH) reticle, or FCH with target dot, the new unit has 1/8 MOA clicks and 50 MOA of windage and elevation. Priced under $1000.00, this is a good value compared to other premium optics with similar max magnification.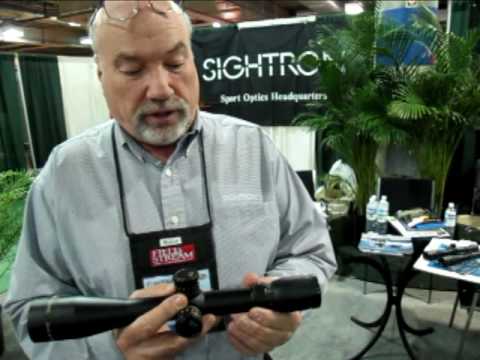 Affordable High-Magnification Long-Range Optic
With a "street price" under $995.00, the Sightron 10-50 could become hugely popular in 600/1000-yard benchrest and F-Class shooting. The big new zoom features a jumbo 60mm objective, 30mm maintube, and 1/8 MOA clicks. Nearly 17″ long and weighing 28.9 ounces, make no mistake, this is a BIG piece of glass. If the new 10-50×60mm SIII Sightron is as good as the 8-32×50mm LR SIII we tested in 2009, this should be a fantastic scope for the money.
New Tactical Scopes with Rear Parallax Control
Sightron had another much smaller, but equally impressive, scope on hand. It was the 10X model from the new SIII Tactical series which includes 16X and 20X versions also. The new SIII fixed-power Tactical Sightrons feature a modified mildot (MMD) reticle with 1/4 MOA clicks. These scopes (10X, 16X, and 20X) all boast an amazing 150 MOA of total elevation (and windage). We repeat: 150 MOA of total up/down travel. That allows you to shoot well past 1000 yards without needed an angled scope base. The parallax control is at the back, where you'd normally find a zoom ring. The position is actually very handy. With the parallax (focus) control near the rear eyepiece, you can easily set the parallax with your firing hand without moving out of position. These new fixed-power Tactical Scopes will retail for about $550.00.